Categories

Date/Time of Last Update: Mon Nov 28 09:00:31 2022 UTC






********** FOOD **********
return to top



The 20 best easy Christmas baking recipes
Mon, 28 Nov 2022 08:00:21 GMT


From Scandinavian honey bombs, a German take on pizza, Nigella's sticky toffee pudding to American candy cane cookies, there's a treat for everyone and every taste in this selection of simple bakes

Easy. Christmas. Baking. Three of my favourite words. Three of my favourite things. Twenty perfect recipes. Nigel and Nigella! Maple walnut biscuits from Jeremy Lee. A breakfast loaf from Honey & Co, marmalade popovers from Margaret Costa. Advent treats: flammkuchen from Anja Dunk and Yotam's Swiss chocolate cookies. There are savouries: cheese and quince shortbread from Olia Hercules, sage and onion twists from Benjamina Ebuehi, stilton scones from Claire Thomson. There's sweet: chocolate plum pudding and candy cane cookies. Truly, simply delicious. Merry Christmas from OFM.

Continue reading...
Match ID: 0 Score: 50.00 source: www.theguardian.com age: 0 days
qualifiers: 30.00 food, 20.00 recipes

7 easy recipes for when you don't feel like cooking (much)
Sat, 26 Nov 2022 10:00:37 EST
When you're just trying to get something on the table, these easy recipes can help you cross the finish line.
Match ID: 1 Score: 50.00 source: www.washingtonpost.com age: 1 day
qualifiers: 30.00 food, 20.00 recipes

Beaten, jailed, exiled and still taunting Putin: inside Pussy Riot's filthy, furious show
Mon, 28 Nov 2022 08:00:20 GMT


They fled Russia disguised as food couriers. Now a major exhibition is celebrating the collective's punky protest art, from a urine-splattered portrait of Putin to the cathedral gig that landed them in prison

The first thing you see is a framed portrait of Vladimir Putin propped against a table. The Russian leader looks like a secular icon, like Lenin in his mausoleum, seemingly incapable of human expression. But this being a video installation, there is more. Standing on the table is figure in a long gown and orange balaclava, like Rasputin in women's clothes, or a very unorthodox priest. The figure raises their skirts and a jet of urine spurts over the portrait.

Welcome to Reykjavík and to Velvet Terrorism, an exhibition tracing the decade-long history of Russian art collective Pussy Riot. "Is that you?" I ask Maria Alyokhina, AKA Masha, pointing at the masked urinator? The Pussy Riot co-founder has been showing me, over a video conferencing app, around the exhibition she and members of Icelandic art collective Kling & Bang (Dorothee Kirch, Ingibjörg Sigurjónsdóttir and Ragnar Kjartansson) are installing. Kjartansson, who earlier this year helped Alyokhina flee Russia, holds the phone and gives me a view of Alyokhina at work.

Continue reading...
Match ID: 2 Score: 30.00 source: www.theguardian.com age: 0 days
qualifiers: 30.00 food

Her mac and cheese took more than 3.5 minutes to make. She's suing.
Sun, 27 Nov 2022 17:09:19 EST
Amanda Ramirez might not have bothered buying the Shells & Cheese product "had she known the truth," says a proposed class-action lawsuit.
Match ID: 3 Score: 30.00 source: www.washingtonpost.com age: 0 days
qualifiers: 30.00 food

A Special Prosecutor Found Kevin Johnson's Case Was Tainted by Racism. Missouri Is About to Kill Him Anyway.
Sun, 27 Nov 2022 15:15:12 +0000


Kevin Johnson is facing execution for killing a cop when he was 19. A special prosecutor says his sentence should be vacated.

The post A Special Prosecutor Found Kevin Johnson's Case Was Tainted by Racism. Missouri Is About to Kill Him Anyway. appeared first on The Intercept.


Match ID: 4 Score: 30.00 source: theintercept.com age: 0 days
qualifiers: 30.00 food

This brothy vegetable soup with sausage is a warming and filling bowl
Sun, 27 Nov 2022 10:00:25 EST
A brothy soup chock full of vegetables and filling chicken sausage is just what's needed to take the chill off.
Match ID: 5 Score: 30.00 source: www.washingtonpost.com age: 0 days
qualifiers: 30.00 food

The Tories are tearing themselves apart over housing – but this is another crisis of their own making | John Harris
Sun, 27 Nov 2022 12:45:40 GMT


Twelve years of decaying public services mean any sensible conversation about much-needed new housing is impossible

In the corner of Somerset where I have lived for nearly 15 years, life in late-Tory England grinds on. Our MP is David Warburton, the formerly Conservative backbencher who was recently found to have broken the parliamentary code of conduct amid allegations of sexual harassment and drug use, which he denies. He has not been seen for eight months. Our new unitary county council faces a financial black hole of £38m before it has even come into being, so cuts are being readied. The town's GP service is completely overstretched, bus services are a constant worry, trains to Bristol and Bath run at inexplicable times of the day, and the roads are regularly jammed with traffic. Use of the local food bank is at an all-time high. Meanwhile, a lot of local angst is now focused on an ever-increasing number of new housing developments: a huge local story that reflects one of the ever-growing number of internal Tory conflicts eating away at Rishi Sunak's government.

The Conservatives' 2019 manifesto promised that the government would trigger the building of 300,000 new homes a year, which inevitably entailed a sizeable loosening of the planning system. But proposals for drastically changing the rules and introducing new liberalised "development zones" were dropped after revolts led by Tory MPs, largely from the south of England.

Continue reading...
Match ID: 6 Score: 30.00 source: www.theguardian.com age: 0 days
qualifiers: 30.00 food

Competence, what competence? Tory chancellors like Jeremy Hunt always spell disaster | Naomi Smith
Sun, 27 Nov 2022 12:05:12 GMT


Look at the record, from Lawson to Osborne – they have consistently overseen rises in poverty and falls in the pound

By placing a photo of Nigel Lawson behind his desk, artfully positioned to be caught by the official photographer, Jeremy Hunt shows himself to be a keen student of previous Tory chancellors. But if he is guided too much by them, that can only be a problem: for him, for his party and for all of us.

Tory chancellors have held the purse strings for 30 of the past 43 years, and from Geoffrey Howe through Norman Lamont to Rishi Sunak, they have nearly all left the UK economy in a worse state than they found it. Of the 11 previous Conservative chancellors since 1979, most left office with poverty rates higher or unchanged from when they started. Although these figures are not yet available for Rishi Sunak, Nadhim Zahawi or Kwasi Kwarteng, the extremely high use of foodbanks during their stints is surely a bad sign, and no Conservative chancellor has managed to reduce inequality anywhere close to pre-1979 levels.

Continue reading...
Match ID: 7 Score: 30.00 source: www.theguardian.com age: 0 days
qualifiers: 30.00 food

'Soldiers without the uniforms': Kherson couple recall anti-Russia resistance
Sun, 27 Nov 2022 09:22:27 GMT


A young couple who helped citizens and Kyiv's army tell of torture and endurance during the Russian onslaught

Yulia and Roma* were a young couple in love when Russia invaded Ukraine on 24 February. They saw panic unfold in their southern city of Kherson, as food and medicine quickly disappeared from shelves and cancer patients – including Yulia's grandfather - died from a lack of essential drugs.

The couple organised deliveries from friends and family, taking food and medicine around the city to those in need – people they found via word of mouth and social media. On their route they saw terrible things. A young teenage boy and an old man, who had died from the wave of an explosion after a strike on a shopping centre, lying face down, with no one who could collect them; a soldier who had been reduced to flesh strewn across the windshield of an army truck.

Continue reading...
Match ID: 8 Score: 30.00 source: www.theguardian.com age: 0 days
qualifiers: 30.00 food

'Hummus is banned in my kitchen': meet the chef bringing 'the essence of Palestine' to London
Sun, 27 Nov 2022 09:00:05 GMT


Gourmet Fadi Kattan wants to give the UK capital an authentic taste of his homeland's cuisine with a new restaurant venture

Akub, also known as gundelia, is an unruly plant that blossoms across the eastern Mediterranean and Middle East after the winter rains. Some believe that the crown of thorns placed on Jesus's head during the crucifixion was made from this long-lasting, sweet-smelling thistle.

It is foraged everywhere, from the Kurdish highlands and Cyprus to the Sinai peninsula, for its earthy, tender stems and delicate-tasting flower buds, but is most highly prized in Palestinian cuisine. Each spring, people defy the Israeli authorities – who say the plant is in danger of overcollection – to bring as many bags of prickly akub as they can carry back to their kitchens to throw into meat stews or fry with eggs and lemon.

Continue reading...
Match ID: 9 Score: 30.00 source: www.theguardian.com age: 0 days
qualifiers: 30.00 food

Ukrainians remember suffering inflicted by Stalin, Putin 90 years apart
Sat, 26 Nov 2022 18:15:19 EST
European leaders met with Ukrainians at summit on food insecurity, remembering victims of 1930s starvation.
Match ID: 10 Score: 30.00 source: www.washingtonpost.com age: 1 day
qualifiers: 30.00 food

From liberation in Ukraine to festive food: original Observer photography
Sat, 26 Nov 2022 00:00:11 GMT


Here are the best original photographs from the Observer commissioned in November 2022

Continue reading...
Match ID: 11 Score: 30.00 source: www.theguardian.com age: 2 days
qualifiers: 30.00 food

The best wine books of 2022 get up close and personal
Fri, 25 Nov 2022 13:00:20 EST
The year's best wine books include biographies from established authorities as well as a must-have reference book for anyone who wants to learn more.
Match ID: 12 Score: 30.00 source: www.washingtonpost.com age: 2 days
qualifiers: 30.00 food

Sparkling wine for just $15 that tastes good? Sign us up.
Fri, 25 Nov 2022 13:00:08 EST
Sparkling wine is popular around the holiday season, and these three bottles are great now — and year-round.
Match ID: 13 Score: 30.00 source: www.washingtonpost.com age: 2 days
qualifiers: 30.00 food

How to freeze pie and pie crust
Fri, 25 Nov 2022 10:00:45 EST
What you need to know about freezing pies — baked or unbaked, whole or sliced — as well as pie crust to cut food waste and save time.
Match ID: 14 Score: 30.00 source: www.washingtonpost.com age: 2 days
qualifiers: 30.00 food

O país do feijão com arroz vira a pátria do miojo
Fri, 25 Nov 2022 13:19:49 +0000


Política econômica de BolsoGuedes tem o macarrão instantâneo como símbolo da monotonia alimentar do brasileiro.

The post O país do feijão com arroz vira a pátria do miojo appeared first on The Intercept.


Match ID: 15 Score: 30.00 source: theintercept.com age: 2 days
qualifiers: 30.00 food

Oxford scientists crack case of why ketchup splatters from near-empty bottle
Thu, 24 Nov 2022 18:00:11 +0000
Squeezing more slowly and doubling diameter of the nozzle can help prevent splatter
Match ID: 16 Score: 25.71 source: arstechnica.com age: 3 days
qualifiers: 25.71 food

People in the UK: have you been forced to rehome a pet?
Thu, 24 Nov 2022 16:43:55 GMT


We would like to speak to people who have been forced to give up their pet amid rising costs

The deepening cost of living crisis is forcing people in the UK to rehome their pets, according to figures from the Dogs Trust.

The charity received 42,000 inquiries from pet owners about rehoming between 1 January and 31 October – a rise of almost 50% on the same period in 2021. Meanwhile, pet food banks have also opened across the country.

Continue reading...
Match ID: 17 Score: 25.71 source: www.theguardian.com age: 3 days
qualifiers: 25.71 food

Como plataformas de inteligência artificial podem discriminar mulheres, idosos e faculdades populares em processos seletivos
Thu, 24 Nov 2022 14:53:19 +0000


Profissionais de RH suspeitam que sistemas automatizados reprovam indevidamente candidatos, reproduzindo os preconceitos do mercado.

The post Como plataformas de inteligência artificial podem discriminar mulheres, idosos e faculdades populares em processos seletivos appeared first on The Intercept.


Match ID: 18 Score: 25.71 source: theintercept.com age: 3 days
qualifiers: 25.71 food

Cost of living: The restaurants shrinking their menus to survive
Thu, 24 Nov 2022 09:37:26 GMT
Pies and burgers have been slashed from the menu at a Colchester restaurant due to staff shortages and soaring food prices.
Match ID: 19 Score: 25.71 source: www.bbc.co.uk age: 3 days
qualifiers: 25.71 food

The World Needs Processed Food
Wed, 23 Nov 2022 14:00:00 +0000
The stigma against processed food is growing, but there's no way to sustainably feed 8 billion people without it.
Match ID: 20 Score: 21.43 source: www.wired.com age: 4 days
qualifiers: 21.43 food

10 Things for Americans to Be Grateful for at Thanksgiving 2022
Wed, 23 Nov 2022 11:00:34 +0000


Elon Musk, functioning elections, "Andor," and death — Americans can genuinely give thanks for all these things and more this holiday.

The post 10 Things for Americans to Be Grateful for at Thanksgiving 2022 appeared first on The Intercept.


Match ID: 21 Score: 21.43 source: theintercept.com age: 4 days
qualifiers: 21.43 food

Delving for Joules in the Fusion Mines
Tue, 22 Nov 2022 16:00:00 +0000

The Big Picture features technology through the lens of photographers.
Every month, IEEE Spectrum selects the most stunning technology images recently captured by photographers around the world. We choose images that reflect an important advance, or a trend, or that are just mesmerizing to look at. We feature all images on our site, and one also appears on our monthly print edition.
Enjoy the latest images, and if you have suggestions, leave a comment below.
Shot of Nuclear Fusion
An old saw regarding the multitude of dashed hopes about fusion energy's promise goes "Fusion is 30 years away—and it always will be." After decades of researchers predicting that fusion was just around the corner, a team at the UK Atomic Energy Authority (which hosts the Joint European Torus [JET] plasma physics experiment) did something that suggests scientists are homing in on exactly which corner that is. In February 2022, the JET experimenters induced the single greatest sustained energy pulse ever created by humans. It had twice the energy of the previous record-setting blast, triggered a quarter century earlier. A doubling every 25 years is far behind the pace of the microchip improvements described by Moore's Law. But that hasn't dampened enthusiasm over an alternative energy source that could make fossil fuels and their effect on the environment relics of a bygone era. In the foreground of the picture is a trainee learning how to use the systems involved in accomplishing the feat.
What has two wings, can reach a person stranded in a disaster zone, and doubles as a source of precious calories when no other food is available? This drone, designed and built by a team of researchers at the Swiss Federal Institute of Technology Lausanne (EPFL), has wings made entirely of laser-cut rice cakes held together with "glue" made from gelatin. The EPFL group says it plans to keep refining the edible aircraft to improve its aeronautics and enhance its nutritional profile.
Creating the quantum mechanical state of entanglement (in which paired atoms influence each other from across vast distances) has heretofore been reminiscent of the story of Noah's ark. The tried-and-true method for entangling photons (by shining light through a nonlinear crystal) puts them in this state two by two, the way the animals are said to have boarded the ark. The ambition of quantum researchers has been to expand these connections from pairs to parties. And it seems they've figured out how to reliably entangle multiple photons in a complicated web, using half-millimeter-thick metasurfaces covered with forests of microscopic pillars. This, say experts, will not only greatly simplify the setup needed for quantum technology but also help support more-complex quantum applications.
In a world obsessed with miniaturization, it's almost shocking when, every now and then, a big deal is made of something, er, big. That is certainly the case with the new camera being built for the Vera C. Rubin Observatory in Chile. When the camera is delivered and set up in May 2023, its 1.57-meter-wide lens will make it the world's largest device for taking snapshots. The gargantuan point-and-shoot instrument will capture images of a swath of the sky seven times the width of the moon.
When we're carrying out our quotidian activities, most of us rarely stop to think about what marvels of engineering our arms and hands are. But for those who have lost the use of a limb—or, like Britt Young, the woman pictured here, were born without one—there's hardly ever a day when the challenges of navigating a two-handed world are not in the forefront of their thoughts. In Young's October 2022 IEEE Spectrum cover story, she discusses these challenges, as well as how the bionic-hand technology intended to come to the rescue falls short of designers' and users' expectations.


Match ID: 22 Score: 17.14 source: spectrum.ieee.org age: 5 days
qualifiers: 17.14 food

Ingredient-Substitution Guide for Thanksgiving Recipes
Wed, 23 Nov 2022 11:00:00 +0000
For one can of pumpkin purée, steal three rotting jack-o'-lanterns from your neighbors' front steps.
Match ID: 23 Score: 14.29 source: www.newyorker.com age: 4 days
qualifiers: 14.29 recipes

The Transistor of 2047: Expert Predictions
Mon, 21 Nov 2022 16:00:01 +0000

The 100th anniversary of the invention of the transistor will happen in 2047. What will transistors be like then? Will they even be the critical computing element they are today? IEEE Spectrum asked experts from around the world for their predictions.
---
What will transistors be like in 2047?
Expect transistors to be even more varied than they are now, says one expert. Just as processors have evolved from CPUs to include GPUs, network processors, AI accelerators, and other specialized computing chips, transistors will evolve to fit a variety of purposes. "Device technology will become application domain–specific in the same way that computing architecture has become application domain–specific," says H.-S. Philip Wong, an IEEE Fellow, professor of electrical engineering at Stanford University, and former vice president of corporate research at TSMC.
Despite the variety, the fundamental operating principle—the field effect that switches transistors on and off—will likely remain the same, suggests Suman Datta, an IEEE Fellow, professor of electrical and computer at Georgia Tech, and director of the multi-university nanotech research center ASCENT. This device will likely have minimum critical dimensions of 1 nanometer or less, enabling device densities of 10 trillion per square centimeter, says Tsu-Jae King Liu, an IEEE Fellow, dean of the college of engineering at the University of California, Berkeley, and a member of Intel's board of directors.
"It is safe to assume that the transistor or switch architectures of 2047 have already been demonstrated on a lab scale"—Sri Samavedam
Experts seem to agree that the transistor of 2047 will need new materials and probably a stacked or 3D architecture, expanding on the planned complementary field-effect transistor (CFET, or 3D-stacked CMOS). [For more on the CFET, see "Taking Moore's Law to New Heights."] And the transistor channel, which now runs parallel to the plane of the silicon, may need to become vertical in order to continue to increase in density, says Datta.
AMD senior fellow Richard Schultz, suggests that the main aim in developing these new devices will be power. "The focus will be on reducing power and the need for advanced cooling solutions," he says. "Significant focus on devices that work at lower voltages is required."
Will transistors still be the heart of most computing in 25 years?
It's hard to imagine a world where computing is not done with transistors, but, of course, vacuum tubes were once the digital switch of choice. Startup funding for quantum computing, which does not directly rely on transistors, reached US $1.4 billion in 2021, according to McKinsey & Co.
But advances in quantum computing won't happen fast enough to challenge the transistor by 2047, experts in electron devices say. "Transistors will remain the most important computing element," says Sayeef Salahuddin, an IEEE Fellow and professor of electrical engineering and computer science at the University of California, Berkeley. "Currently, even with an ideal quantum computer, the potential areas of application seem to be rather limited compared to classical computers."
Sri Samavedam, senior vice president of CMOS technologies at the European chip R&D center Imec, agrees. "Transistors will still be very important computing elements for a majority of the general-purpose compute applications," says Samavedam. "One cannot ignore the efficiencies realized from decades of continuous optimization of transistors."
Has the transistor of 2047 already been invented?
Twenty-five years is a long time, but in the world of semiconductor R&D, it's not that long. "In this industry, it usually takes about 20 years from [demonstrating a concept] to introduction into manufacturing," says Samavedam. "It is safe to assume that the transistor or switch architectures of 2047 have already been demonstrated on a lab scale" even if the materials involved won't be exactly the same. King Liu, who demonstrated the modern FinFET about 25 years ago with colleagues at Berkeley, agrees.
But the idea that the transistor of 2047 is already sitting in a lab somewhere isn't universally shared. Salahuddin, for one, doesn't think it's been invented yet. "But just like the FinFET in the 1990s, it is possible to make a reasonable prediction for the geometric structure" of future transistors, he says.
AMD's Schultz says you can glimpse this structure in proposed 3D-stacked devices made of 2D semiconductors or carbon-based semiconductors. "Device materials that have not yet been invented could also be in scope in this time frame," he adds.
Will silicon still be the active part of most transistors in 2047?
Experts say that the heart of most devices, the transistor channel region, will still be silicon, or possibly silicon-germanium—which is already making inroads—or germanium. But in 2047 many chips may use semiconductors that are considered exotic today. These could include oxide semiconductors like indium gallium zinc oxide; 2D semiconductors, such as the metal dichalcogenide tungsten disulfide; and one-dimensional semiconductors, such as carbon nanotubes. Or even "others yet to be invented," says Imec's Samavedam.
"Transistors will remain the most important computing element"—Sayeef Salahuddin
Silicon-based chips may be integrated in the same package with chips that rely on newer materials, just as processor makers are today integrating chips using different silicon manufacturing technologies into the same package, notes IEEE Fellow Gabriel Loh, a senior fellow at AMD.
Which semiconductor material is at the heart of the device may not even be the central issue in 2047. "The choice of channel material will essentially be dictated by which material is the most compatible with many other materials that form other parts of the device," says Salahuddin. And we know a lot about integrating materials with silicon.
In 2047, where will transistors be common where they are not found today?
Everywhere. No, seriously. Experts really do expect some amount of intelligence and sensing to creep into every aspect of our lives. That means devices will be attached to our bodies and implanted inside them; embedded in all kinds of infrastructure, including roads, walls, and houses; woven into our clothing; stuck to our food; swaying in the breeze in grain fields; watching just about every step in every supply chain; and doing many other things in places nobody has thought of yet.

Transistors will be "everywhere that needs computation, command and control, communications, data collection, storage and analysis, intelligence, sensing and actuation, interaction with humans, or an entrance portal to the virtual and mixed reality world," sums up Stanford's Wong.

This article appears in the December 2022 print issue as "The Transistor of 2047."


Match ID: 24 Score: 12.86 source: spectrum.ieee.org age: 6 days
qualifiers: 12.86 food

The Evacuation of the CIA's Afghan Proxies Has Opened One of the War's Blackest Boxes
Sun, 20 Nov 2022 11:00:42 +0000


Former Zero Unit members are facing a reversal of fortune that is humiliating, infuriating, and utterly intractable.

The post The Evacuation of the CIA's Afghan Proxies Has Opened One of the War's Blackest Boxes appeared first on The Intercept.


Match ID: 25 Score: 8.57 source: theintercept.com age: 7 days
qualifiers: 8.57 food

Was the Killing of a Migrant by a Former ICE Warden a Hate Crime or a Terrible Accident?
Sat, 19 Nov 2022 11:00:49 +0000


At Fivemile Tank, a watering hole in the bleak desert of West Texas, two men pulled up in a truck. One aimed a gun into the brush.

The post Was the Killing of a Migrant by a Former ICE Warden a Hate Crime or a Terrible Accident? appeared first on The Intercept.


Match ID: 26 Score: 4.29 source: theintercept.com age: 8 days
qualifiers: 4.29 food

Sign up for the TechScape newsletter: our free technology email
Tue, 20 Sep 2022 10:36:01 GMT


Alex Hern's look at how technology is shaping our lives, direct to your inbox

Get our UK tech editor's unique insight into the latest goings on in Silicon Valley and beyond direct to your inbox. Sign up to receive our Wednesday email and get the lowdown on everything from crypto to TikTok – and much more.

Explore all our newsletters: whether you love film, football, fashion or food, we've got something for you

Continue reading...
Match ID: 27 Score: 4.29 source: www.theguardian.com age: 68 days
qualifiers: 4.29 food

U.N. Kills Any Plans to Use Mercury as a Rocket Propellant
Tue, 19 Apr 2022 18:00:01 +0000





A recent United Nations provision has banned the use of mercury in spacecraft propellant. Although no private company has actually used mercury propellant in a launched spacecraft, the possibility was alarming enough—and the dangers extreme enough—that the ban was enacted just a few years after one U.S.-based startup began toying with the idea. Had the company gone through with its intention to sell mercury propellant thrusters to some of the companies building massive satellite constellations over the coming decade, it would have resulted in Earth's upper atmosphere being laced with mercury.

Mercury is a neurotoxin. It's also bio-accumulative, which means it's absorbed by the body at a faster rate than the body can remove it. The most common way to get mercury poisoning is through eating contaminated seafood. "It's pretty nasty," says Michael Bender, the international coordinator of the Zero Mercury Working Group (ZMWG). "Which is why this is one of the very few instances where the governments of the world came together pretty much unanimously and ratified a treaty."

Bender is referring to the 2013 Minamata Convention on Mercury, a U.N. treaty named for a city in Japan whose residents suffered from mercury poisoning from a nearby chemical factory for decades. Because mercury pollutants easily find their way into the oceans and the atmosphere, it's virtually impossible for one country to prevent mercury poisoning within its borders. "Mercury—it's an intercontinental pollutant," Bender says. "So it required a global treaty."

Today, the only remaining permitted uses for mercury are in fluorescent lighting and dental amalgams, and even those are being phased out. Mercury is otherwise found as a by-product of other processes, such as the burning of coal. But then a company hit on the idea to use it as a spacecraft propellant.

In 2018, an employee at Apollo Fusion approached the Public Employees for Environmental Responsibility (PEER), a nonprofit that investigates environmental misconduct in the United States. The employee—who has remained anonymous—alleged that the Mountain View, Calif.–based space startup was planning to build and sell thrusters that used mercury propellant to multiple companies building low Earth orbit (LEO) satellite constellations.

Four industry insiders ultimately confirmed that Apollo Fusion was building thrusters that utilized mercury propellant. Apollo Fusion, which was acquired by rocket manufacturing startup Astra in June 2021, insisted that the composition of its propellant mixture should be considered confidential information. The company withdrew its plans for a mercury propellant in April 2021. Astra declined to respond to a request for comment for this story.

Apollo Fusion wasn't the first to consider using mercury as a propellant. NASA originally tested it in the 1960s and 1970s with two Space Electric Propulsion Tests (SERT), one of which was sent into orbit in 1970. Although the tests demonstrated mercury's effectiveness as a propellant, the same concerns over the element's toxicity that have seen it banned in many other industries halted its use by the space agency as well.

"I think it just sort of fell off a lot of folks' radars," says Kevin Bell, the staff counsel for PEER. "And then somebody just resurrected the research on it and said, 'Hey, other than the environmental impact, this was a pretty good idea.' It would give you a competitive advantage in what I imagine is a pretty tight, competitive market."

That's presumably why Apollo Fusion was keen on using it in their thrusters. Apollo Fusion as a startup emerged more or less simultaneously with the rise of massive LEO constellations that use hundreds or thousands of satellites in orbits below 2,000 kilometers to provide continual low-latency coverage. Finding a slightly cheaper, more efficient propellant for one large geostationary satellite doesn't move the needle much. But doing the same for thousands of satellites that need to be replaced every several years? That's a much more noticeable discount.

Were it not for mercury's extreme toxicity, it would actually make an extremely attractive propellant. Apollo Fusion wanted to use a type of ion thruster called a Hall-effect thruster. Ion thrusters strip electrons from the atoms that make up a liquid or gaseous propellant, and then an electric field pushes the resultant ions away from the spacecraft, generating a modest thrust in the opposite direction. The physics of rocket engines means that the performance of these engines increases with the mass of the ion that you can accelerate.

Mercury is heavier than either xenon or krypton, the most commonly used propellants, meaning more thrust per expelled ion. It's also liquid at room temperature, making it efficient to store and use. And it's cheap—there's not a lot of competition with anyone looking to buy mercury.

Bender says that ZMWG, alongside PEER, caught wind of Apollo Fusion marketing its mercury-based thrusters to at least three companies deploying LEO constellations—One Web, Planet Labs, and SpaceX. Planet Labs, an Earth-imaging company, has at least 200 CubeSats in low Earth orbit. One Web and SpaceX, both wireless-communication providers, have many more. One Web plans to have nearly 650 satellites in orbit by the end of 2022. SpaceX already has nearly 1,500 active satellites aloft in its Starlink constellation, with an eye toward deploying as many as 30,000 satellites before its constellation is complete. Other constellations, like Amazon's Kuiper constellation, are also planning to deploy thousands of satellites.

In 2019, a group of researchers in Italy and the United States estimated how much of the mercury used in spacecraft propellant might find its way back into Earth's atmosphere. They figured that a hypothetical LEO constellation of 2,000 satellites, each carrying 100 kilograms of propellant, would emit 20 tonnes of mercury every year over the course of a 10-year life span. Three quarters of that mercury, the researchers suggested, would eventually wind up in the oceans.

That amounts to 1 percent of global mercury emissions from a constellation only a fraction of the size of the one planned by SpaceX alone. And if multiple constellations adopted the technology, they would represent a significant percentage of global mercury emissions—especially, the researchers warned, as other uses of mercury are phased out as planned in the years ahead.

Fortunately, it's unlikely that any mercury propellant thrusters will even get off the ground. Prior to the fourth meeting of the Minamata Convention, Canada, the European Union, and Norway highlighted the dangers of mercury propellant, alongside ZMWG. The provision to ban mercury usage in satellites was passed on 26 March 2022.

The question now is enforcement. "Obviously, there aren't any U.N. peacekeepers going into space to shoot down" mercury-based satellites, says Bell. But the 137 countries, including the United States, who are party to the convention have pledged to adhere to its provisions—including the propellant ban.

The United States is notable in that list because as Bender explains, it did not ratify the Minamata Convention via the U.S. Senate but instead deposited with the U.N. an instrument of acceptance. In a 7 November 2013 statement (about one month after the original Minamata Convention was adopted), the U.S. State Department said the country would be able to fulfill its obligations "under existing legislative and regulatory authority."

Bender says the difference is "weedy" but that this appears to mean that the U.S. government has agreed to adhere to the Minamata Convention's provisions because it already has similar laws on the books. Except there is still no existing U.S. law or regulation banning mercury propellant. For Bender, that creates some uncertainty around compliance when the provision goes into force in 2025.

Still, with a U.S. company being the first startup to toy with mercury propellant, it might be ideal to have a stronger U.S. ratification of the Minamata Convention before another company hits on the same idea. "There will always be market incentives to cut corners and do something more dangerously," Bell says.

Update 19 April 2022: In an email, a spokesperson for Astra stated that the company's propulsion system, the Astra Spacecraft Engine, does not use mercury. The spokesperson also stated that Astra has no plans to use mercury propellant and that the company does not have anything in orbit that uses mercury.


Updated 20 April 2022 to clarify that Apollo Fusion was building thrusters that used mercury, not that they had actually used them.


Match ID: 28 Score: 4.29 source: spectrum.ieee.org age: 222 days
qualifiers: 4.29 food

What is Blockchain: Everything You Need to Know (2022)
Mon, 18 Apr 2022 05:49:00 +0000

If you want to pay online, you need to register an account and provide credit card information. If you don't have a credit card, you can pay with bank transfer. With the rise of cryptocurrencies, these methods may become old.

Imagine a world in which you can do transactions and many other things without having to give your personal information. A world in which you don't need to rely on banks or governments anymore. Sounds amazing, right? That's exactly what blockchain technology allows us to do.

It's like your computer's hard drive. blockchain is a technology that lets you store data in digital blocks, which are connected together like links in a chain.

Blockchain technology was originally invented in 1991 by two mathematicians, Stuart Haber and W. Scot Stornetta. They first proposed the system to ensure that timestamps could not be tampered with.

A few years later, in 1998, software developer Nick Szabo proposed using a similar kind of technology to secure a digital payments system he called "Bit Gold." However, this innovation was not adopted until Satoshi Nakamoto claimed to have invented the first Blockchain and Bitcoin.
So, What is Blockchain?
A blockchain is a distributed database shared between the nodes of a computer network. It saves information in digital format. Many people first heard of blockchain technology when they started to look up information about bitcoin.
Blockchain is used in cryptocurrency systems to ensure secure, decentralized records of transactions.
Blockchain allowed people to guarantee the fidelity and security of a record of data without the need for a third party to ensure accuracy.
To understand how a blockchain works, Consider these basic steps:
Blockchain collects information in "blocks".

A block has a storage capacity, and once it's used up, it can be closed and linked to a previously served block.

Blocks form chains, which are called "Blockchains."

More information will be added to the block with the most content until its capacity is full. The process repeats itself.

Each block in the chain has an exact timestamp and can't be changed.
Let's get to know more about the blockchain.
How does blockchain work?
Blockchain records digital information and distributes it across the network without changing it. The information is distributed among many users and stored in an immutable, permanent ledger that can't be changed or destroyed. That's why blockchain is also called "Distributed Ledger Technology" or DLT.
Here's how it works:
Someone or a computer will transacts

The transaction is transmitted throughout the network.

A network of computers can confirm the transaction.

When it is confirmed a transaction is added to a block

The blocks are linked together to create a history.
And that's the beauty of it! The process may seem complicated, but it's done in minutes with modern technology. And because technology is advancing rapidly, I expect things to move even more quickly than ever.
A new transaction is added to the system. It is then relayed to a network of computers located around the world. The computers then solve equations to ensure the authenticity of the transaction.

Once a transaction is confirmed, it is placed in a block after the confirmation. All of the blocks are chained together to create a permanent history of every transaction.
How are Blockchains used?
Even though blockchain is integral to cryptocurrency, it has other applications. For example, blockchain can be used for storing reliable data about transactions. Many people confuse blockchain with cryptocurrencies like bitcoin and ethereum.
Blockchain already being adopted by some big-name companies, such as Walmart, AIG, Siemens, Pfizer, and Unilever. For example, IBM's Food Trust uses blockchain to track food's journey before reaching its final destination.
Although some of you may consider this practice excessive, food suppliers and manufacturers adhere to the policy of tracing their products because bacteria such as E. coli and Salmonella have been found in packaged foods. In addition, there have been isolated cases where dangerous allergens such as peanuts have accidentally been introduced into certain products.
Tracing and identifying the sources of an outbreak is a challenging task that can take months or years. Thanks to the Blockchain, however, companies now know exactly where their food has been—so they can trace its location and prevent future outbreaks.
Blockchain technology allows systems to react much faster in the event of a hazard. It also has many other uses in the modern world.
What is Blockchain Decentralization?
Blockchain technology is safe, even if it's public. People can access the technology using an internet connection.
Have you ever been in a situation where you had all your data stored at one place and that one secure place got compromised? Wouldn't it be great if there was a way to prevent your data from leaking out even when the security of your storage systems is compromised?
Blockchain technology provides a way of avoiding this situation by using multiple computers at different locations to store information about transactions. If one computer experiences problems with a transaction, it will not affect the other nodes.
Instead, other nodes will use the correct information to cross-reference your incorrect node. This is called "Decentralization," meaning all the information is stored in multiple places.
Blockchain guarantees your data's authenticity—not just its accuracy, but also its irreversibility. It can also be used to store data that are difficult to register, like legal contracts, state identifications, or a company's product inventory.
Pros and Cons of Blockchain
Blockchain has many advantages and disadvantages.
Pros
Accuracy is increased because there is no human involvement in the verification process.

One of the great things about decentralization is that it makes information harder to tamper with.

Safe, private, and easy transactions

Provides a banking alternative and safe storage of personal information
Cons
Data storage has limits.

The regulations are always changing, as they differ from place to place.

It has a risk of being used for illicit activities
Frequently Asked Questions About Blockchain
I'll answer the most frequently asked questions about blockchain in this section.
Is Blockchain a cryptocurrency?
Blockchain is not a cryptocurrency but a technology that makes cryptocurrencies possible. It's a digital ledger that records every transaction seamlessly.
Is it possible for Blockchain to be hacked?
Yes, blockchain can be theoretically hacked, but it is a complicated task to be achieved. A network of users constantly reviews it, which makes hacking the blockchain difficult.
What is the most prominent blockchain company?
Coinbase Global is currently the biggest blockchain company in the world. The company runs a commendable infrastructure, services, and technology for the digital currency economy.
Who owns Blockchain?
Blockchain is a decentralized technology. It's a chain of distributed ledgers connected with nodes. Each node can be any electronic device. Thus, one owns blockhain.
What is the difference between Bitcoin and Blockchain technology?
Bitcoin is a cryptocurrency, which is powered by Blockchain technology while Blockchain is a distributed ledger of cryptocurrency
What is the difference between Blockchain and a Database?
Generally a database is a collection of data which can be stored and organized using a database management system. The people who have access to the database can view or edit the information stored there. The client-server network architecture is used to implement databases. whereas a blockchain is a growing list of records, called blocks, stored in a distributed system. Each block contains a cryptographic hash of the previous block, timestamp and transaction information. Modification of data is not allowed due to the design of the blockchain. The technology allows decentralized control and eliminates risks of data modification by other parties.
Final Saying

Blockchain has a wide spectrum of applications and, over the next 5-10 years, we will likely see it being integrated into all sorts of industries. From finance to healthcare, blockchain could revolutionize the way we store and share data. Although there is some hesitation to adopt blockchain systems right now, that won't be the case in 2022-2023 (and even less so in 2026). Once people become more comfortable with the technology and understand how it can work for them, owners, CEOs and entrepreneurs alike will be quick to leverage blockchain technology for their own gain. Hope you like this article if you have any question let me know in the comments section

FOLLOW US ON TWITTER








Match ID: 29 Score: 4.29 source: www.crunchhype.com age: 224 days
qualifiers: 4.29 food

Filter efficiency 96.139 (30 matches/777 results)


********** XKCD **********
return to top



What If 2 Gift Guide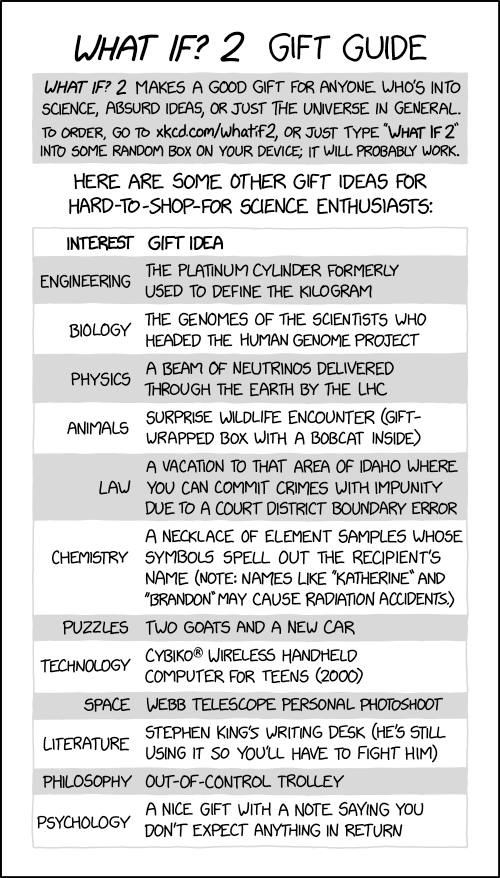 Match ID: 0 Score: 1000.00 source: xkcd.com
qualifiers: 1000.00 xkcd

Paper Title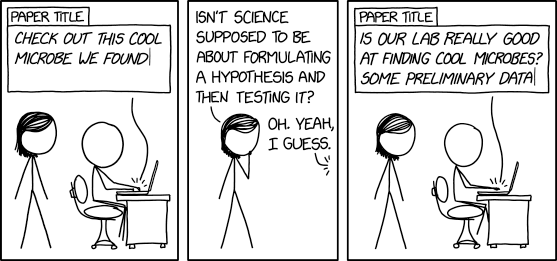 Match ID: 1 Score: 1000.00 source: xkcd.com
qualifiers: 1000.00 xkcd

Change in Slope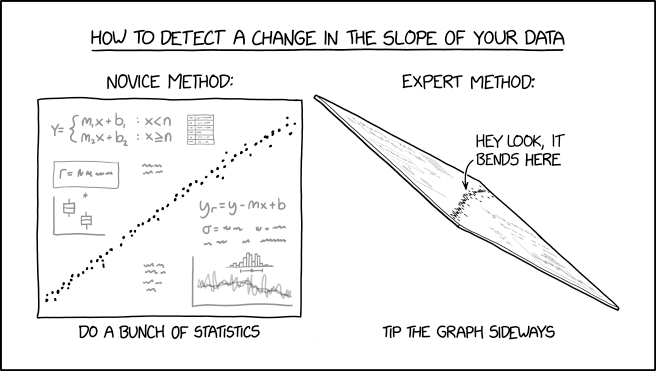 Match ID: 2 Score: 1000.00 source: xkcd.com
qualifiers: 1000.00 xkcd

Account Problems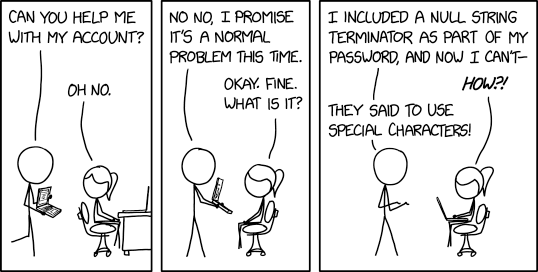 Match ID: 3 Score: 1000.00 source: xkcd.com
qualifiers: 1000.00 xkcd

Robotic Falcon Keeps Birds Away From Airports
Sun, 06 Nov 2022 14:00:00 +0000





Collisions with birds are a serious problem for commercial aircraft, costing the industry billions of dollars and killing thousands of animals every year. New research shows that a robotic imitation of a peregrine falcon could be an effective way to keep them out of flight paths.

Worldwide, so-called birdstrikes are estimated to cost the civil aviation industry almost US $1.4 billion annually. Nearby habitats are often deliberately made unattractive to birds, but airports also rely on a variety of deterrents designed to scare them away, such as loud pyrotechnics or speakers that play distress calls from common species.

However, the effectiveness of these approaches tends to decrease over time, as the birds get desensitized by repeated exposure, says Charlotte Hemelrijk, a professor on the faculty of science and engineering at the University of Groningen, in the Netherlands. Live hawks or blinding lasers are also sometimes used to disperse flocks, she says, but this is controversial as it can harm the animals, and keeping and training falcons is not cheap.

"The birds don't distinguish [RobotFalcon] from a real falcon, it seems."
—Charlotte Hemelrijk, University of Groningen

In an effort to find a more practical and lasting solution, Hemelrijk and colleagues designed a robotic peregrine falcon that can be used to chase flocks away from airports. The device is the same size and shape as a real hawk, and its fiberglass and carbon-fiber body has been painted to mimic the markings of its real-life counterpart.

Rather than flapping like a bird, the RobotFalcon relies on two small battery-powered propellers on its wings, which allows it to travel at around 30 miles per hour for up to 15 minutes at a time. A human operator controls the machine remotely from a hawk's-eye perspective via a camera perched above the robot's head.

To see how effective the RobotFalcon was at scaring away birds, the researchers tested it against a conventional quadcopter drone over three months of field testing, near the Dutch city of Workum. They also compared their results to 15 years of data collected by the Royal Netherlands Air Force that assessed the effectiveness of conventional deterrence methods such as pyrotechnics and distress calls.

Flock-herding Falcon Drone Patrols Airport Flight Paths youtu.be

In a paper published in the Journal of the Royal Society Interface, the team showed that the RobotFalcon cleared fields of birds faster and more effectively than the drone. It also kept birds away from fields longer than distress calls, the most effective of the conventional approaches.

There was no evidence of birds getting habituated to the RobotFalcon over three months of testing, says Hemelrijk, and the researchers also found that the birds exhibited behavior patterns associated with escaping from predators much more frequently with the robot than with the drone. "The way of reacting to the RobotFalcon is very similar to the real falcon," says Hemelrijk. "The birds don't distinguish it from a real falcon, it seems."

Other attempts to use hawk-imitating robots to disperse birds have had less promising results, though. Morgan Drabik-Hamshare, a research wildlife biologist at the DoA, and her colleagues published a paper in Scientific Reports last year that described how they pitted a robotic peregrine falcon with flapping wings against a quadcopter and a fixed-wing remote-controlled aircraft.

They found the robotic falcon was the least effective of the three at scaring away turkey vultures, with the quadcopter scaring the most birds off and the remote-controlled plane eliciting the quickest response. "Despite the predator silhouette, the vultures did not perceive the predator UAS [unmanned aircraft system] as a threat," Drabik-Hamshare wrote in an email.

Zihao Wang, an associate lecturer at the University of Sydney, in Australia, who develops UAS for bird deterrence, says the RobotFalcon does seem to be effective at dispersing flocks. But he points out that its wingspan is nearly twice the diagonal length of the quadcopter it was compared with, which means it creates a much larger silhouette when viewed from the birds' perspective. This means the birds could be reacting more to its size than its shape, and he would like to see the RobotFalcon compared with a similar size drone in the future.

The unique design also means the robot requires an experienced and specially trained operator, Wang adds, which could make it difficult to roll out widely. A potential solution could be to make the system autonomous, he says, but it's unclear how easy this would be.

Hemelrijk says automating the RobotFalcon is probably not feasible, both due to strict regulations around the use of autonomous drones near airports as well as the sheer technical complexity. Their current operator is a falconer with significant experience in how hawks target their prey, she says, and creating an autonomous system that could recognize and target bird flocks in a similar way would be highly challenging.

But while the need for skilled operators is a limitation, Hemelrijk points out that most airports already have full-time staff dedicated to bird deterrence, who could be trained. And given the apparent lack of habituation and the ability to chase birds in a specific direction—so that they head away from runways—she thinks the robotic falcon could be a useful addition to their arsenal.


Match ID: 4 Score: 142.86 source: spectrum.ieee.org age: 21 days
qualifiers: 142.86 xkcd

Filter efficiency 99.356 (5 matches/777 results)