Categories

Date/Time of Last Update: Wed Aug 10 03:00:35 2022 UTC






********** CLIMATE **********
return to top



What Could Keep Climate Change From Becoming Catastrophic?
Tue, 09 Aug 2022 11:00:00 +0000
WIRED's editor in chief weighs the merits and detriments of carbon capture and storage, plus more thoughts on this month's headlines.
Match ID: 0 Score: 30.00 source: www.wired.com age: 0 days
qualifiers: 15.00 climate change, 15.00 carbon

Lawmakers in India pass energy conservation bill
Tue, 9 Aug 2022 21:39:33 EDT
The Indian government took another step toward its climate goals by passing a conservation bill through parliament's lower house, which makes it easier to put a price on carbon emissions and encourages the use of non-fossil fuel sources to generate power across the country
Match ID: 1 Score: 15.00 source: www.washingtonpost.com age: 0 days
qualifiers: 15.00 carbon

Trillions of dollars at risk because central banks' climate models not up to scratch
Tue, 09 Aug 2022 17:30:30 GMT


Climate research finds modelling used cannot predict localised extreme weather, leading to poor estimations of risk

Trillions of dollars may be misallocated to deal with the wrong climate threats around the world because the models used by central banks and regulators aren't fit for purpose, a leading Australian climate researcher says.

Prof Andy Pitman, director of the Australian Research Council's Centre of Excellence for Climate Extremes, said regulators were relying on models that are good at forecasting how average climates will change as the planet warms, but were less likely to be of use for predicting how extreme weather will imperil individual localities such as cities.

The concerns, detailed in a report in the journal Environmental Research: Climate, were underscored by the Australian Prudential Regulation Authority's release on Monday of its corporate plan 2022-23. Apra plans to "continue to ensure regulated institutions are well-prepared for the risks and opportunities presented by climate change".

Sign up to receive an email with the top stories from Guardian Australia every morning

Continue reading...
Match ID: 2 Score: 15.00 source: www.theguardian.com age: 0 days
qualifiers: 15.00 climate change

Humanity's Biggest Problems Require a Whole New Media Mode
Tue, 09 Aug 2022 12:00:00 +0000
In this era of climate change and crisis, it's time for formats as varied, animal, and leafy as the world they seek to represent.
Match ID: 3 Score: 15.00 source: www.wired.com age: 0 days
qualifiers: 15.00 climate change

This Laser-Firing Truck Could Help Make Hot Cities More Livable
Tue, 09 Aug 2022 11:00:00 +0000
Scientists are driving around in a specialized observatory to better understand how urban heat varies not only block to block, but door to door.
Match ID: 4 Score: 15.00 source: www.wired.com age: 0 days
qualifiers: 15.00 climate change

The Democrats Finally Deliver
Tue, 09 Aug 2022 00:10:41 +0000
The Senate's passage of a sweeping, if imperfect, climate-change-and-health-care bill is a landmark moment in U.S. policymaking.
Match ID: 5 Score: 15.00 source: www.newyorker.com age: 1 day
qualifiers: 15.00 climate change

It's possible no electric vehicles will qualify for the new tax credit
Mon, 08 Aug 2022 22:11:19 +0000
There is no grace period, so credits effectively end once the bill is signed.
Match ID: 6 Score: 15.00 source: arstechnica.com age: 1 day
qualifiers: 15.00 climate change

US Senate passes sweeping climate, tax and healthcare package
Mon, 08 Aug 2022 22:02:37 GMT
The bill seeks to lower the cost of medicines, increase corporate taxes and reduce carbon emissions.
Match ID: 7 Score: 15.00 source: www.bbc.co.uk age: 1 day
qualifiers: 15.00 carbon

New EV Prototype Leaves Range Anxiety in the Dust
Mon, 08 Aug 2022 16:13:15 +0000

Not long ago, a 300-mile range seemed like a healthy target for electric cars. More recently, the 520-mile (837-kilometer) Lucid Air became the world's longest-range EV. But that record may not stand for long.
The Mercedes-Benz Vision EQXX, and its showroom-bound tech, looks to banish range anxiety for good: In April, the sleek prototype sedan completed a 621-mile (1,000-km) trek through the Alps from Mercedes's Sindelfingen facility to the Côte d'Azur in Cassis, France, with battery juice to spare. It built on that feat in late May, when the prototype covered a world-beating, bladder-busting 747 miles (1,202 km) in a run from Germany to the Formula One circuit in Silverstone, England.
This wasn't your usual long-distance, college-engineering project, a single-seat death trap made from Kleenex and balsa wood, with no amenities or hope of being certified for use on public roads. Despite modest power, a futuristic teardrop shape, and next-gen tech, the EQXX—developed in just 18 months—is otherwise a familiar, small Mercedes luxury sedan. That includes a dramatic sci-fi display and human-machine interface that spans the full dashboard. To underline real-world intent, Mercedes vows that the EQXX's power train will reach showrooms by 2024. An initial showroom model, and surely more to come, will be built on the company's new Mercedes Modular Architecture platform, designed for smaller "entry-luxury" models such as the A-Class and the CLA Coupe. While Mercedes was refining its one-off tech showpiece, it even used a current EQB model as a test mule for the power train.
"The car is an R&D project, but we're feeding it into the development of our next compact car platform," says Conrad Sagert, an engineer at Mercedes who is developing electric drive systems.
The engineering team included specialists with the Mercedes-EQ Formula E team, drawing from their well of electric racing experience. Developed in just 18 months, the rear-drive Vision EQXX is powered by a single radial-flux electric motor—developed entirely in-house—fed by a battery pack with just under 100 kilowatt-hours of usable energy. Inside, environmentally conscious materials include trim panels sourced from cacti, mushroom-based seat inserts and bamboo-fiber shag floor mats, all previewing potential use in showroom cars. One thing that won't reach production by 2024 is the EQXX's high-silicon battery anode, which Sagert says is closer to four years from showrooms. Such silicon-rich anodes, which can squeeze more range from batteries, are widely expected to be popularized over the next decade.
A 241-horsepower output delivers a reasonable 7-second trip from 0 to 60 miles per hour. But from a feathery (for an electric vehicle) 3,900-pound curb weight to wind-cheating aerodynamics, the carbon-fiber-bodied EQXX is designed for pure efficiency, not winning stoplight races. The Benz sipped electrons at 8.7 miles per kilowatt-hour on its Côte d'Azur run, nearly double the roughly 4.5 kWh of the Lucid (the current high for global EVs) and 7.5 miles per kilowatt-hour on the trip to the United Kingdom. If that electric math still seems esoteric, the England-bound Benz delivered the equivalent of 262 miles per gallon, nearly double the 141 mpg of the industry-leading Tesla Model 3 Standard Range.
A roof panel with 117 solar cells lessens the burden by powering a conventional 12-volt system to run accessories, including lighting, an audio system, and the display screens worthy of Minority Report. On the cloudy April trip to southern France, with plenty of tunnel passages, the panels saved 13 km of range. On the sunnier May drive to the U.K., the solar roof saved 43 km of range.
The Vision EQXX's roof panel has 117 solar cells.Mercedes-Benz

Aerodynamics naturally play an essential role, including a tiny frontal area and dramatic Kamm tail whose active rear diffuser extends nearly 8 inches at speeds above 23 mph. The sidewalls of specially designed Bridgestone tires sit flush with the body and 20-inch magnesium wheels, aiding a claimed drag coefficient of 0.17, which exceeds any current production car. Surprisingly for such a slippery design, the EQXX features traditional yet aerodynamic exterior mirrors: Mercedes says the camera-based "mirrors" used on many concept cars drew too much electricity to generate a tangible benefit.

Defying today's EV norms, the battery and motor are entirely air cooled. Eliminating liquid-cooling circuits, pumps, and fluids set off a spiral of savings in weight and packaging. To cool the battery, a smoothly shaped underbody acts as a heat sink. The design reversed the usual engineering challenge in EVs and internal combustion engine cars alike: The problem was getting heat into the system to bring battery and motor to optimal operating temperature. Active front shutters can open to boost airflow when necessary.

"We don't get enough waste heat, so we had to insulate the electric motor. It's still about heat management, but the other way around," Sagert says.

Add it up and the EQXX transfers a claimed 95 percent of electric energy into forward motion, up from 90 percent for Mercedes's current models such as the EQS. If that doesn't sound like much gain to nonengineers, Sagert puts it another way: The EQXX reduces typical EV energy losses by 50 percent.

"We're always hoping for this magical thing, but it's really the sum of the details," Sagert says.

That obsession with tiny details paid off. Based on computer and dynamometer simulations, engineers saw a 1,000-km run as a challenging target, and plotted a Mediterranean road trip to Cassis, France. Instead, the car blew away those conservative projections. Pulling into Cassis, the EQXX had 140 km of remaining range.

"We thought about waving and just driving on, but we weren't allowed," Sagert says, not least because Mercedes board member and chief technology officer Markus Schäfer was waiting to greet them. Mercedes then set its sights higher, and chose Silverstone and its Formula One track, ideal for a team meetup.

"We started thinking, can we do a longer run?" Sagert says. "We always wished to visit our colleagues in Formula E, who did so much for the project. But again we thought, 'This will be really tough.' "

To make the runs legit, Mercedes was determined to drive at real-world speeds and conditions, not "hypermile" their way to some illusory record. The car averaged 83 kilometers per hour on its U.K. run, and 87 km/h to Cassis. Test drivers even ran the air conditioning for 8 hours of the two-day, 14 hour-and-30-minute trip to Silverstone, and encountered an autobahn road closure and snarled traffic around London.

The sleek sedan capped off the record-breaking trek with an energy-guzzling flourish: Despite some misgivings, the team handed their precious prototype to a Formula E team driver, Nyck de Vries. The Type-A racer forgot all about efficiency and pushed the car to its limits on the Silverstone F1 circuit, watched by nervous engineers. Where long-distance drivers had relied almost exclusively on regenerative braking (with four adjustable levels) during their runs, de Vries got to test the car's novel aluminum brake rotors. Those ultralight rotors are possible because the Benz so rarely needs to use its foot-operated mechanical brakes, as telemetry readings from the track showed.

"In three laps, de Vries burned more energy using the mechanical brakes than we did on two entire runs" through Europe, Sagert says. "But it was a good feeling, that this wasn't some show car, and that you could give it to a race driver and not have it fall apart."

Some of this prototype tech won't be feasible on coming production models—a carbon-fiber body, for one, is the stuff of supercars, not small-and-affordable Mercedes. Still, the EQXX offers a tantalizing taste of what's to come, including all-day range to savor.

"This range anxiety is not a problem anymore," Sagert says. "If your range isn't enough today, wait two years, and the step will be big."


Match ID: 8 Score: 15.00 source: spectrum.ieee.org age: 1 day
qualifiers: 15.00 carbon

How Clean Is 'Clean' Hydrogen?
Mon, 08 Aug 2022 11:00:00 +0000
Batteries and renewable energy alone can't decarbonize industries, and recent proposals for a "hydrogen economy" could bridge those gaps.
Match ID: 9 Score: 15.00 source: www.wired.com age: 1 day
qualifiers: 15.00 carbon

Extreme Heat Is Becoming More Dangerous for Farmworkers
Sat, 06 Aug 2022 12:00:00 +0000
Sweltering temperatures and humidity threaten the health of outdoor laborers, and there are few standards to protect them from working when it's too hot.
Match ID: 10 Score: 12.86 source: www.wired.com age: 3 days
qualifiers: 12.86 climate change

Solar-to-Jet-Fuel System Readies for Takeoff
Wed, 03 Aug 2022 17:00:00 +0000

As climate change edges from crisis to emergency, the aviation sector looks set to miss its 2050 goal of net-zero emissions. In the five years preceding the pandemic, the top four U.S. airlines—American, Delta, Southwest, and United—saw a 15 percent increase in the use of jet fuel. Despite continual improvements in engine efficiencies, that number is projected to keep rising.

A glimmer of hope, however, comes from solar fuels. For the first time, scientists and engineers at the Swiss Federal Institute of Technology (ETH) in Zurich have reported a successful demonstration of an integrated fuel-production plant for solar kerosene. Using concentrated solar energy, they were able to produce kerosene from water vapor and carbon dioxide directly from air. Fuel thus produced is a drop-in alternative to fossil-derived fuels and can be used with existing storage and distribution infrastructures, and engines.
Fuels derived from synthesis gas (or syngas)—an intermediate product that is a specific mixture of carbon monoxide and hydrogen—is a known alternative to conventional, fossil-derived fuels. Syngas is produced by Fischer-Tropsch (FT) synthesis, in which chemical reactions convert carbon monoxide and water vapor into hydrocarbons. The team of researchers at ETH found that a solar-driven thermochemical method to split water and carbon dioxide using a metal oxide redox cycle can produce renewable syngas. They demonstrated the process in a rooftop solar refinery at the ETH Machine Laboratory in 2019.
Reticulated porous structure made of ceria used in the solar reactor to thermochemically split CO2 and H2O and produce syngas, a specific mixture of H2 and CO.ETH Zurich
The current pilot-scale solar tower plant was set up at the IMDEA Energy Institute in Spain. It scales up the solar reactor of the 2019 experiment by a factor of 10, says Aldo Steinfeld, an engineering professor at ETH who led the study. The fuel plant brings together three subsystems—the solar tower concentrating facility, solar reactor, and gas-to-liquid unit.
First, a heliostat field made of mirrors that rotate to follow the sun concentrates solar irradiation into a reactor mounted on top of the tower. The reactor is a cavity receiver lined with reticulated porous ceramic structures made of ceria (or cerium(IV) oxide). Within the reactor, the concentrated sunlight creates a high-temperature environment of about 1,500 °C which is hot enough to split captured carbon dioxide and water from the atmosphere to produce syngas. Finally, the syngas is processed to kerosene in the gas-to-liquid unit. A centralized control room operates the whole system.
Fuel produced using this method closes the fuel carbon cycle as it only produces as much carbon dioxide as has gone into its manufacture. "The present pilot fuel plant is still a demonstration facility for research purposes," says Steinfeld, "but it is a fully integrated plant and uses a solar-tower configuration at a scale that is relevant for industrial implementation."
"The solar reactor produced syngas with selectivity, purity, and quality suitable for FT synthesis," the authors noted in their paper. They also reported good material stability for multiple consecutive cycles. They observed a value of 4.1 percent solar-to-syngas energy efficiency, which Steinfeld says is a record value for thermochemical fuel production, even though better efficiencies are required to make the technology economically competitive.
A heliostat field concentrates solar radiation onto a solar reactor mounted on top of the solar tower. The solar reactor cosplits water and carbon dioxide and produces a mixture of molecular hydrogen and carbon monoxide, which in turn is processed to drop-in fuels such as kerosene.ETH Zurich

"The measured value of energy conversion efficiency was obtained without any implementation of heat recovery," he says. The heat rejected during the redox cycle of the reactor accounted for more than 50 percent of the solar-energy input. "This fraction can be partially recovered via thermocline heat storage. Thermodynamic analyses indicate that sensible heat recovery could potentially boost the energy efficiency to values exceeding 20 percent."

To do so, more work is needed to optimize the ceramic structures lining the reactor, something the ETH team is actively working on, by looking at 3D-printed structures for improved volumetric radiative absorption. "In addition, alternative material compositions, that is, perovskites or aluminates, may yield improved redox capacity, and consequently higher specific fuel output per mass of redox material," Steinfeld adds.

The next challenge for the researchers, he says, is the scale-up of their technology for higher solar-radiative power inputs, possibly using an array of solar cavity-receiver modules on top of the solar tower.

To bring solar kerosene into the market, Steinfeld envisages a quota-based system. "Airlines and airports would be required to have a minimum share of sustainable aviation fuels in the total volume of jet fuel that they put in their aircraft," he says. This is possible as solar kerosene can be mixed with fossil-based kerosene. This would start out small, as little as 1 or 2 percent, which would raise the total fuel costs at first, though minimally—adding "only a few euros to the cost of a typical flight," as Steinfeld puts it

Meanwhile, rising quotas would lead to investment, and to falling costs, eventually replacing fossil-derived kerosene with solar kerosene. "By the time solar jet fuel reaches 10 to 15 percent of the total jet-fuel volume, we ought to see the costs for solar kerosene nearing those of fossil-derived kerosene," he adds.

However, we may not have to wait too long for flights to operate solely on solar fuel. A commercial spin-off of Steinfeld's laboratory, Synhelion, is working on commissioning the first industrial-scale solar fuel plant in 2023. The company has also collaborated with the airline SWISS to conduct a flight solely using its solar kerosene.


Match ID: 11 Score: 12.86 source: spectrum.ieee.org age: 6 days
qualifiers: 6.43 climate change, 6.43 carbon

Massive Quantities of PFAS Waste Go Unreported to EPA
Fri, 05 Aug 2022 11:00:21 +0000


US Ecology failed to report more than 11 million pounds of PFAS-contaminated waste at its facility in Beatty, Nevada.

The post Massive Quantities of PFAS Waste Go Unreported to EPA appeared first on The Intercept.


Match ID: 12 Score: 10.71 source: theintercept.com age: 4 days
qualifiers: 10.71 toxic

Rhode Island's Renewable Energy Goal Is a Beacon for Other States
Thu, 04 Aug 2022 18:14:33 +0000





Early in July, Rhode Island's governor signed legislation mandating that the state acquire 100 percent of its electricity from renewable sources by 2033. Among the state's American peers, there's no deadline more ambitious.

"Anything more ambitious, and I would start being a little skeptical that it would be attainable," says Seaver Wang, a climate and energy researcher at the Breakthrough Institute.


It is true that Rhode Island is small. It is also true that the state's conditions make it riper for such a timeframe than most of the country. But watching this tiny state go about its policy business, analysts say, might show other states how to light their own ways into a renewable future.

Rhode Island's 2033 deadline comes in the form of a renewable-energy standard, setting a goal that electricity providers must meet by collecting a certain number of certificates. Electricity providers can earn those certificates by generating electricity from renewable sources themselves; alternatively, they can buy certificates from other providers. (Numerous other states have similar standards—Rhode Island's current standard is actually an upgrade to an older standard—and policy wonks have mooted a national standard.)

Today, it might seem a bit optimistic to pin hopes for renewable energy on a state that still gets 89 percent of its electricity from natural gas. Much of the meager wind power that does exist comes either from other states or from the 30-megawatt Block Island Wind Farm—the first offshore wind farm in the United States—which consists of just five turbines and only came online in 2016.

But Rhode Island plans to fill the gap with as much as 600 megawatts of new wind power. To aid this effort, it has partnered with Ørsted, which could bring a critical mass of turbine expertise from Europe, where the sector is far more advanced. "I think that adds greatly to the likelihood of [Rhode Island's] success," says Morgan Higman, a clean-energy researcher at the Center for Strategic and International Studies, in Washington, D.C.

The policies in the package are, indeed, quite specific to Rhode Island's position. Not only is it one of the least populous states in the United States, it already has about the lowest per capita energy consumption in the country. Moreover, powering a service-oriented economy, Rhode Island's grid doesn't have to accommodate many energy-intensive manufacturing firms. That makes that 2033 goal all the more achievable.

"It's better to have attainable goals and focus on a diverse portfolio of policies to promote clean energy advancement, rather than sort of rush to meet what is essentially…a bit of a PR goal," says Wang.

That Rhode Island is going all-in on something this maritime state might have in abundance—offshore wind—offers another lesson. Higman says it's a good example of using a state's own potential resources. Moreover, the partnership with Ørsted might help the state harness helpful expertise.

In similar fashion, Texans could choose to double down on that state's own wind-power portfolio. New Mexico could potentially shape a renewable-energy supply from its bountiful sunlight. Doing this sort of thing, Higman says, "is the fastest way that we see states accelerate renewable-energy deployment."

Rhode Island's policy does leave some room for improvement. Its focus on renewables looks past New England's largest source of carbon-free energy: fission. Just two nuclear power plants (Millstone in Connecticut and Seabrook in New Hampshire) pump out more than a fifth of the region's electricity. A more inclusive policy might take note and incentivize nuclear power, too.

Perhaps most important, any discussion of energy policy should note that Rhode Island's grid doesn't exist in a vacuum; it's linked in with the grids of its surrounding states in New England, New York, and beyond. (Indeed, it has repeatedly partnered on setting goals and building new offshore wind power.)

If neighboring states implement similarly aggressive standards without actually building new energy capacity, then there's a chance that when all the renewable energy certificates are bought out, some states won't have any renewable energy left.

But analysts are optimistic that Rhode Island can do the job. "Rhode Island does deserve some kudos for this policy," says Wang.

"It's really tempting to applaud states for their goals. This is a useful example of where setting a goal is not very meaningful," adds Higman. "Identifying the means and strategies and technologies to achieve that goal is the most important thing. And Rhode Island has done that."


Match ID: 13 Score: 8.57 source: spectrum.ieee.org age: 5 days
qualifiers: 8.57 carbon

Satellite Imagery for Everyone
Sat, 19 Feb 2022 16:00:00 +0000

Every day, satellites circling overhead capture trillions of pixels of high-resolution imagery of the surface below. In the past, this kind of information was mostly reserved for specialists in government or the military. But these days, almost anyone can use it.
That's because the cost of sending payloads, including imaging satellites, into orbit has dropped drastically. High-resolution satellite images, which used to cost tens of thousands of dollars, now can be had for the price of a cup of coffee.
What's more, with the recent advances in artificial intelligence, companies can more easily extract the information they need from huge digital data sets, including ones composed of satellite images. Using such images to make business decisions on the fly might seem like science fiction, but it is already happening within some industries.
These underwater sand dunes adorn the seafloor between Andros Island and the Exuma islands in the Bahamas. The turquoise to the right reflects a shallow carbonate bank, while the dark blue to the left marks the edge of a local deep called Tongue of the Ocean. This image was captured in April 2020 using the Moderate Resolution Imaging Spectroradiometer on NASA's Terra satellite.
Here's a brief overview of how you, too, can access this kind of information and use it to your advantage. But before you'll be able to do that effectively, you need to learn a little about how modern satellite imagery works.
The orbits of Earth-observation satellites generally fall into one of two categories: GEO and LEO. The former is shorthand for geosynchronous equatorial orbit. GEO satellites are positioned roughly 36,000 kilometers above the equator, where they circle in sync with Earth's rotation. Viewed from the ground, these satellites appear to be stationary, in the sense that their bearing and elevation remain constant. That's why GEO is said to be a geostationary orbit.
Such orbits are, of course, great for communications relays—it's what allows people to mount satellite-TV dishes on their houses in a fixed orientation. But GEO satellites are also appropriate when you want to monitor some region of Earth by capturing images over time. Because the satellites are so high up, the resolution of that imagery is quite coarse, however. So these orbits are primarily used for observation satellites designed to track changing weather conditions over broad areas.
Being stationary with respect to Earth means that GEO satellites are always within range of a downlink station, so they can send data back to Earth in minutes. This allows them to alert people to changes in weather patterns almost in real time. Most of this kind of data is made available for free by the U.S. National Oceanographic and Atmospheric Administration.
In March 2021, the container ship Ever Given ran aground, blocking the Suez Canal for six days. This satellite image of the scene, obtained using synthetic-aperture radar, shows the kind resolution that is possible with this technology.
The other option is LEO, which stands for low Earth orbit. Satellites placed in LEO are much closer to the ground, which allows them to obtain higher-resolution images. And the lower you can go, the better the resolution you can get. The company Planet, for example, increased the resolution of its recently completed satellite constellation, SkySat, from 72 centimeters per pixel to just 50 cm—an incredible feat—by lowering the orbits its satellites follow from 500 to 450 km and improving the image processing.
The best commercially available spatial resolution for optical imagery is 25 cm, which means that one pixel represents a 25-by-25-cm area on the ground—roughly the size of your laptop. A handful of companies capture data with 25-cm to 1-meter resolution, which is considered high to very high resolution in this industry. Some of these companies also offer data from 1- to 5-meter resolution, considered medium to high resolution. Finally, several government programs have made optical data available at 10-, 15-, 30-, and 250-meter resolutions for free with open data programs. These include NASA/U.S. Geological Survey Landsat, NASA MODIS (Moderate Resolution Imaging Spectroradiometer), and ESA Copernicus. This imagery is considered low resolution.
Because the satellites that provide the highest-resolution images are in the lowest orbits, they sense less area at once. To cover the entire planet, a satellite can be placed in a polar orbit, which takes it from pole to pole. As it travels, Earth rotates under it, so on its next pass, it will be above a different part of Earth.
Many of these satellites don't pass directly over the poles, though. Instead, they are placed in a near-polar orbit that has been specially designed to take advantage of a subtle bit of physics. You see, the spinning Earth bulges outward slightly at the equator. That extra mass causes the orbits of satellites that are not in polar orbits to shift or (technically speaking) to precess. Satellite operators often take advantage of this phenomenon to put a satellite in what's called a sun-synchronous orbit. Such orbits allow the repeated passes of the satellite over a given spot to take place at the same time of day. Not having the pattern of shadows shift between passes helps the people using these images to detect changes.
It usually takes 24 hours for a satellite in polar orbit to survey the entire surface of Earth. To image the whole world more frequently, satellite companies use multiple satellites, all equipped with the same sensor and following different orbits. In this way, these companies can provide more frequently updated images of a given location. For example, Maxar's Worldview Legion constellation, launching later this year, includes six satellites.

After a satellite captures some number of images, all that data needs to be sent down to Earth and processed. The time required for that varies.
DigitalGlobe (which Maxar acquired in 2017) recently announced that it had managed to send data from a satellite down to a ground station and then store it in the cloud in less than a minute. That was possible because the image sent back was of the parking lot of the ground station, so the satellite didn't have to travel between the collection point and where it had to be to do the data "dumping," as this process is called.
In general, Earth-observation satellites in LEO don't capture imagery all the time—they do that only when they are above an area of special interest. That's because these satellites are limited to how much data they can send at one time. Typically, they can transmit data for only 10 minutes or so before they get out of range of a ground station. And they cannot record more data than they'll have time to dump.
Currently, ground stations are located mostly near the poles, the most visited areas in polar orbits. But we can soon expect distances to the nearest ground station to shorten because both Amazon and Microsoft have announced intentions to build large networks of ground stations located all over the world. As it turns out, hosting the terabytes of satellite data that are collected daily is big business for these companies, which sell their cloud services (Amazon Web Services and Microsoft's Azure) to satellite operators.
For now, if you are looking for imagery of an area far from a ground station, expect a significant delay—maybe hours—between capture and transmission of the data. The data will then have to be processed, which adds yet more time. The fastest providers currently make their data available within 48 hours of capture, but not all can manage that. While it is possible, under ideal weather conditions, for a commercial entity to request a new capture and get the data it needs delivered the same week, such quick turnaround times are still considered cutting edge.
The best commercially available spatial resolution is 25 centimeters for optical imagery, which means that one pixel represents something roughly the size of your laptop.
I've been using the word "imagery," but it's important to note that satellites do not capture images the same way ordinary cameras do. The optical sensors in satellites are calibrated to measure reflectance over specific bands of the electromagnetic spectrum. This could mean they record how much red, green, and blue light is reflected from different parts of the ground. The satellite operator will then apply a variety of adjustments to correct colors, combine adjacent images, and account for parallax, forming what's called a true-color composite image, which looks pretty much like what you would expect to get from a good camera floating high in the sky and pointed directly down.

Imaging satellites can also capture data outside of the visible-light spectrum. The near-infrared band is widely used in agriculture, for example, because these images help farmers gauge the health of their crops. This band can also be used to detect soil moisture and a variety of other ground features that would otherwise be hard to determine.
Longer-wavelength "thermal" IR does a good job of penetrating smoke and picking up heat sources, making it useful for wildfire monitoring. And synthetic-aperture radar satellites, which I discuss in greater detail below, are becoming more common because the images they produce aren't affected by clouds and don't require the sun for illumination.
You might wonder whether aerial imagery, say, from a drone, wouldn't work at least as well as satellite data. Sometimes it can. But for many situations, using satellites is the better strategy. Satellites can capture imagery over areas that would be difficult to access otherwise because of their remoteness, for example. Or there could be other sorts of accessibility issues: The area of interest could be in a conflict zone, on private land, or in another place that planes or drones cannot overfly.
So with satellites, organizations can easily monitor the changes taking place at various far-flung locations. Satellite imagery allows pipeline operators, for instance, to quickly identify incursions into their right-of-way zones. The company can then take steps to prevent a disastrous incident, such as someone puncturing a gas pipeline while construction is taking place nearby.
This SkySat image shows the effect of a devastating landslide that took place on 30 December 2020. Debris from that landslide destroyed buildings and killed 10 people in the Norwegian village of Ask.

The ability to compare archived imagery with recently acquired data has helped a variety of industries. For example, insurance companies sometimes use satellite data to detect fraudulent claims ("Looks like your house had a damaged roof when you bought it…"). And financial-investment firms use satellite imagery to evaluate such things as retailers' future profits based on parking-lot fullness or to predict crop prices before farmers report their yields for the season.


Satellite imagery provides a particularly useful way to find or monitor the location of undisclosed features or activities. Sarah Parcak of the University of Alabama, for example, uses satellite imagery to locate archaeological sites of interest. 52Impact, a consulting company in the Netherlands, identified undisclosed waste dump sites by training an algorithm to recognize their telltale spectral signature. Satellite imagery has also helped identify illegal fishing activities, fight human trafficking, monitor oil spills, get accurate reporting on COVID-19 deaths, and even investigate Uyghur internment camps in China—all situations where the primary actors couldn't be trusted to accurately report what's going on.

Despite these many successes, investigative reporters and nongovernmental organizations aren't yet using satellite data regularly, perhaps because even the small cost of the imagery is a deterrent. Thankfully, some kinds of low-resolution satellite data can be had for free.

The first place to look for free satellite imagery is the Copernicus Open Access Hub and EarthExplorer. Both offer free access to a wide range of open data. The imagery is lower resolution than what you can purchase, but if the limited resolution meets your needs, why spend money?

If you require medium- or high-resolution data, you might be able to buy it directly from the relevant satellite operator. This field recently went through a period of mergers and acquisitions, leaving only a handful of providers, the big three in the West being Maxar and Planet in the United States and Airbus in Germany. There are also a few large Asian providers, such as SI Imaging Services in South Korea and Twenty First Century Aerospace Technology in Singapore. Most providers have a commercial branch, but they primarily target government buyers. And they often require large minimum purchases, which is unhelpful to companies looking to monitor hundreds of locations or fewer.

Expect the distance to the nearest ground station to shorten because both Amazon and Microsoft have announced intentions to build large networks of ground stations located all over the world.

Fortunately, approaching a satellite operator isn't the only option. In the past five years, a cottage industry of consultants and local resellers with exclusive deals to service a certain market has sprung up. Aggregators and resellers spend years negotiating contracts with multiple providers so they can offer customers access to data sets at more attractive prices, sometimes for as little as a few dollars per image. Some companies providing geographic information systems—including Esri, L3Harris, and Safe Software—have also negotiated reselling agreements with satellite-image providers.

Traditional resellers are middlemen who will connect you with a salesperson to discuss your needs, obtain quotes from providers on your behalf, and negotiate pricing and priority schedules for image capture and sometimes also for the processing of the data. This is the case for Apollo Mapping, European Space Imaging, Geocento, LandInfo, Satellite Imaging Corp., and many more. The more innovative resellers will give you access to digital platforms where you can check whether an image you need is available from a certain archive and then order it. Examples include LandViewer from EOS and Image Hunter from Apollo Mapping.

More recently, a new crop of aggregators began offering customers the ability to programmatically access Earth-observation data sets. These companies work best for people looking to integrate such data into their own applications or workflows. These include the company I work for, SkyWatch, which provides such a service, called EarthCache. Other examples are UP42 from Airbus and Sentinel Hub from Sinergise.

While you will still need to talk with a sales rep to activate your account—most often to verify you will use the data in ways that fits the company's terms of service and licensing agreements—once you've been granted access to their applications, you will be able to programmatically order archive data from one or multiple providers. SkyWatch is, however, the only aggregator allowing users to programmatically request future data to be collected ("tasking a satellite").

While satellite imagery is fantastically abundant and easy to access today, two changes are afoot that will expand further what you can do with satellite data: faster revisits and greater use of synthetic-aperture radar (SAR).

The first of these developments is not surprising. As more Earth-observation satellites are put into orbit, more images will be taken, more often. So how frequently a given area is imaged by a satellite will increase. Right now, that's typically two or three times a week. Expect the revisit rate soon to become several times a day. This won't entirely address the challenge of clouds obscuring what you want to view, but it will help.

The second development is more subtle. Data from the two satellites of the European Space Agency's Sentinel-1 SAR mission, available at no cost, has enabled companies to dabble in SAR over the last few years.

With SAR, the satellite beams radio waves down and measures the return signals bouncing off the surface. It does that continually, and clever processing is used to turn that data into images. The use of radio allows these satellites to see through clouds and to collect measurements day and night. Depending on the radar band that's employed, SAR imagery can be used to judge material properties, moisture content, precise movements, and elevation.

As more companies get familiar with such data sets, there will no doubt be a growing demand for satellite SAR imagery, which has been widely used by the military since the 1970s. But it's just now starting to appear in commercial products. You can expect those offerings to grow dramatically, though.

Indeed, a large portion of the money being invested in this industry is currently going to fund large SAR constellations, including those of Capella Space, Iceye, Synspective, XpressSAR, and others. The market is going to get crowded fast, which is great news for customers. It means they will be able to obtain high-resolution SAR images of the place they're interested in, taken every hour (or less), day or night, cloudy or clear.

People will no doubt figure out wonderful new ways to employ this information, so the more folks who have access to it, the better. This is something my colleagues at SkyWatch and I deeply believe, and it's why we've made it our mission to help democratize access to satellite imagery.

One day in the not-so-distant future, Earth-observation satellite data might become as ubiquitous as GPS, another satellite technology first used only by the military. Imagine, for example, being able to take out your phone and say something like, "Show me this morning's soil-moisture map for Grover's Corners High; I want to see whether the baseball fields are still soggy."

This article appears in the March 2022 print issue as "A Boom with a View."

Editor's note: The original version of this article incorrectly stated that Maxar's Worldview Legion constellation launched last year.


Match ID: 14 Score: 7.86 source: spectrum.ieee.org age: 171 days
qualifiers: 5.71 air pollution, 2.14 carbon

Climate change: More studies needed on possibility of human extinction
Mon, 01 Aug 2022 19:09:08 GMT
New research says it could be "fatally foolish" not to think the unthinkable on climate change.
Match ID: 15 Score: 2.14 source: www.bbc.co.uk age: 8 days
qualifiers: 2.14 climate change

UK's 40C heatwave 'basically impossible' without climate change
Fri, 29 Jul 2022 03:51:01 GMT
Human-caused climate change made the high temperatures last week much more likely, say scientists.
Match ID: 16 Score: 2.14 source: www.bbc.co.uk age: 11 days
qualifiers: 2.14 climate change

Climate change: UK sea level rise speeding up - Met Office
Thu, 28 Jul 2022 09:16:40 GMT
The Met Office's annual look at our climate says higher temperatures are the new normal.
Match ID: 17 Score: 2.14 source: www.bbc.co.uk age: 12 days
qualifiers: 2.14 climate change

The art of cutting carbon - how new technologies can help
Tue, 26 Jul 2022 23:09:05 GMT
With the 'de-printer' specially coated sheets of paper can be used 10 times over.
Match ID: 18 Score: 2.14 source: www.bbc.co.uk age: 14 days
qualifiers: 2.14 carbon

Climate change: How to talk to a denier
Sat, 23 Jul 2022 23:14:38 GMT
Tips about how to engage with people who think climate change is a "hoax".
Match ID: 19 Score: 2.14 source: www.bbc.co.uk age: 17 days
qualifiers: 2.14 climate change

Inside the Universe Machine: The Webb Space Telescope's Staggering Vision
Wed, 06 Jul 2022 13:00:00 +0000

For a deep dive into the engineering behind the James Webb Space Telescope, see our collection of posts here.
"Build something that will absolutely, positively work." This was the mandate from NASA for designing and building the James Webb Space Telescope—at 6.5 meters wide the largest space telescope in history. Last December, JWST launched famously and successfully to its observing station out beyond the moon. And now according to NASA, as soon as next week, the JWST will at long last begin releasing scientific images and data.
Mark Kahan, on JWST's product integrity team, recalls NASA's engineering challenge as a call to arms for a worldwide team of thousands that set out to create one of the most ambitious scientific instruments in human history. Kahan—chief electro-optical systems engineer at Mountain View, Calif.–based Synopsys—and many others in JWST's "pit crew" (as he calls the team) drew hard lessons from three decades ago, having helped repair another world-class space telescope with a debilitating case of flawed optics. Of course the Hubble Space Telescope is in low Earth orbit, and so a special space-shuttle mission to install corrective optics ( as happened in 1993) was entirely possible.
Not so with the JWST.
The meticulous care NASA demanded of JWST's designers is all the more a necessity because Webb is well out of reach of repair crews. Its mission is to study the infrared universe, and that requires shielding the telescope and its sensors from both the heat of sunlight and the infrared glow of Earth. A good place to do that without getting too far from Earth is an empty patch of interplanetary space 1.5 million kilometers away (well beyond the moon's orbit) near a spot physicists call the second Lagrange point, or L2.
The pit crew's job was "down at the detail level, error checking every critical aspect of the optical design," says Kahan. Having learned the hard way from Hubble, the crew insisted that every measurement on Webb's optics be made in at least two different ways that could be checked and cross-checked. Diagnostics were built into the process, Kahan says, so that "you could look at them to see what to kick" to resolve any discrepancies. Their work had to be done on the ground, but their tests had to assess how the telescope would work in deep space at cryogenic temperatures.
Three New Technologies for the Main Mirror
Superficially, Webb follows the design of all large reflecting telescopes. A big mirror collects light from stars, galaxies, nebulae, planets, comets, and other astronomical objects—and then focuses those photons onto a smaller secondary mirror that then ultimately directs the light to instruments that record images and spectra.
Webb's 6.5-meter primary mirror is the first segmented mirror to be launched into space. All the optics had to be made on the ground at room temperature but were deployed in space and operated at 30 to 55 degrees above absolute zero. "We had to develop three new technologies" to make it work, says Lee D. Feinberg of the NASA Goddard Space Flight Center, the optical telescope element manager for Webb for the past 20 years.
The longest wavelengths that Hubble has to contend with were 2.5 micrometers, whereas Webb is built to observe infrared light that stretches to 28 μm in wavelength. Compared with Hubble, whose primary mirror is a circle of an area 4.5 square meters, "[Webb's primary mirror] had to be 25 square meters," says Feinberg. Webb also "needed segmented mirrors that were lightweight, and its mass was a huge consideration," he adds. No single-component mirror that could provide the required resolution would have fit on the Ariane 5 rocket that launched JWST. That meant the mirror would have to be made in pieces, assembled, folded, secured to withstand the stress of launch, then unfolded and deployed in space to create a surface that was within tens of nanometers of the shape specified by the designers.
The James Webb Space Telescope [left] and the Hubble Space Telescope side by side—with Hubble's 2.4-meter-diameter mirror versus Webb's array of hexagonal mirrors making a 6.5-meter-diameter light-collecting area. NASA Goddard Space Flight Center
NASA and the U.S. Air Force, which has its own interests in large lightweight space mirrors for surveillance and focusing laser energy, teamed up to develop the technology. The two agencies narrowed eight submitted proposals down to two approaches for building JWST's mirrors: one based on low-expansion glass made of a mixture of silicon and titanium dioxides similar to that used in Hubble and the other the light but highly toxic metal beryllium. The most crucial issue came down to how well the materials could withstand temperature changes from room temperature on the ground to around 50 K in space. Beryllium won because it could fully release stress after cooling without changing its shape, and it's not vulnerable to the cracking that can occur in glass. The final beryllium mirror was a 6.5-meter array of 18 hexagonal beryllium mirrors, each weighing about 20 kilograms. The weight per unit area of JWST's mirror was only 10 percent of that in Hubble. A 100-nanometer layer of pure gold makes the surface reflect 98 percent of incident light from JWST's main observing band of 0.6 to 28.5 μm. "Pure silver has slightly higher reflectivity than pure gold, but gold is more robust," says Feinberg. A thin layer of amorphous silica protects the metal film from surface damage.
In addition, a wavefront-sensing control system keeps mirror segment surfaces aligned to within tens of nanometers. Built on the ground, the system is expected to keep mirror alignment stabilized throughout the telescope's operational life. A backplane kept at a temperature of 35 K holds all 2.4 tonnes of the telescope and instruments rock-steady to within 32 nm while maintaining them at cryogenic temperatures during observations.
The JWST backplane, the "spine" that supports the entire hexagonal mirror structure and carries more than 2,400 kg of hardware, is readied for assembly to the rest of the telescope. NASA/Chris Gunn
Hubble's amazing, long-exposure images of distant galaxies are possible through the use of gyroscopes and reaction wheels. The gyroscopes are used to sense unwanted rotations, and reaction wheels are used to counteract them.
But the gyroscopes used on Hubble have had a bad track record and have had to be replaced repeatedly. Only three of Hubble's six gyros remain operational today, and NASA has devised plans for operating with one or two gyros at reduced capability. Hubble also includes reaction wheels and magnetic torquers, used to maintain its orientation when needed or to point at different parts of the sky.

Webb uses reaction wheels similarly to turn across the sky, but instead of using mechanical gyros to sense direction, it uses hemispherical resonator gyroscopes, which have no moving parts. Webb also has a small fine-steering mirror in the optical path, which can tilt over an angle of just 5 arc seconds. Those very fine adjustments of the light path into the instruments keep the telescope on target. "It's a really wonderful way to go," says Feinberg, adding that it compensates for small amounts of jitter without having to move the whole 6-tonne observatory.
Instruments
Other optics distribute light from the fine-steering mirror among four instruments, two of which can observe simultaneously. Three instruments have sensors that observe wavelengths of 0.6 to 5 μm, which astronomers call the near-infrared. The fourth, called the Mid-InfraRed Instrument (MIRI), observes what astronomers call the mid-infrared spectrum, from 5 to 28.5 μm. Different instruments are needed because sensors and optics have limited wavelength ranges. (Optical engineers may blanch slightly at astronomers' definitions of what constitutes the near- and mid-infrared wavelength ranges. These two groups simply have differing conventions for labeling the various regimes of the infrared spectrum.)
Mid-infrared wavelengths are crucial for observing young stars and planetary systems and the earliest galaxies, but they also pose some of the biggest engineering challenges. Namely, everything on Earth and planets out to Jupiter glow in the mid-infrared. So for JWST to observe distant astronomical objects, it must avoid recording extraneous mid-infrared noise from all the various sources inside the solar system. "I have spent my whole career building instruments for wavelengths of 5 μm and longer," says MIRI instrument scientist Alastair Glasse of the Royal Observatory, in Edinburgh. "We're always struggling against thermal background."
Mountaintop telescopes can see the near-infrared, but observing the mid-infrared sky requires telescopes in space. However, the thermal radiation from Earth and its atmosphere can cloud their view, and so can the telescopes themselves unless they are cooled far below room temperature. An ample supply of liquid helium and an orbit far from Earth allowed the Spitzer Space Telescope's primary observing mission to last for five years, but once the last of the cryogenic fluid evaporated in 2009, its observations were limited to wavelengths shorter than 5 μm.
Webb has an elaborate solar shield to block sunlight, and an orbit 1.5 million km from Earth that can keep the telescope to below 55 K, but that's not good enough for low-noise observations at wavelengths longer than 5 μm. The near-infrared instruments operate at 40 K to minimize thermal noise. But for observations out to 28.5 μm, MIRI uses a specially developed closed-cycle, helium cryocooler to keep MIRI cooled below 7 K. "We want to have sensitivity limited by the shot noise of astronomical sources," says Glasse. (Shot noise occurs when optical or electrical signals are so feeble that each photon or electron constitutes a detectable peak.) That will make MIRI 1,000 times as sensitive in the mid-infrared as Spitzer.
Another challenge is the limited transparency of optical materials in the mid-infrared. "We use reflective optics wherever possible," says Glasse, but they also pose problems, he adds. "Thermal contraction is a big deal," he says, because the instrument was made at room temperature but is used at 7 K. To keep thermal changes uniform throughout MIRI, they made the whole structure of gold-coated aluminum lest other metals cause warping.
Detectors are another problem. Webb's near-infrared sensors use mercury cadmium telluride photodetectors with a resolution of 2,048 x 2,048 pixels. This resolution is widely used at wavelengths below 5 μm, but sensing at MIRI's longer wavelengths required exotic detectors that are limited to offering only 1,024 x 1,024 pixels.
Glasse says commissioning "has gone incredibly well." Although some stray light has been detected, he says, "we are fully expecting to meet all our science goals."
NIRcam Aligns the Whole Telescope
The near-infrared detectors and optical materials used for observing at wavelengths shorter than 5 μm are much more mature than those for the mid-infrared, so the Near-Infrared Camera (NIRcam) does double duty by both recording images and aligning all the optics in the whole telescope. That alignment was the trickiest part of building the instrument, says NIRcam principal investigator Marcia Rieke of the University of Arizona.
Alignment means getting all the light collected by the primary mirror to get to the right place in the final image. That's crucial for Webb, because it has 18 separate segments that have to overlay their images perfectly in the final image, and because all those segments were built on the ground at room temperature but operate at cryogenic temperatures in space at zero gravity. When NASA recorded a test image of a single star after Webb first opened its primary mirror, it showed 18 separate bright spots, one from each segment. When alignment was completed on 11 March, the image from NIRcam showed a single star with six spikes caused by diffraction.
Even when performing instrumental calibration tasks, JWST couldn't help but showcase its stunning sensitivity to the infrared sky. The central star is what telescope technicians used to align JWST's mirrors. But notice the distant galaxies and stars that photobombed the image too!NASA/STScI

Building a separate alignment system would have added to both the weight and cost of Webb, Rieke realized, and in the original 1995 plan for the telescope she proposed designing NIRcam so it could align the telescope optics once it was up in space as well as record images. "The only real compromise was that it required NIRcam to have exquisite image quality," says Rieke, wryly. From a scientific point, she adds, using the instrument to align the telescope optics "is great because you know you're going to have good image quality and it's going to be aligned with you." Alignment might be just a tiny bit off for other instruments. In the end, it took a team at Lockheed Martin to develop the computational tools to account for all the elements of thermal expansion.

Escalating costs and delays had troubled Webb for years. But for Feinberg, "commissioning has been a magical five months." It began with the sight of sunlight hitting the mirrors. The segmented mirror deployed smoothly, and after the near-infrared cameras cooled, the mirrors focused one star into 18 spots, then aligned them to put the spots on top of each other. "Everything had to work to get it to [focus] that well," he says. It's been an intense time, but for Feinberg, a veteran of the Hubble repair mission, commissioning Webb was "a piece of cake."

NASA announced that between May 23rd and 25th, one segment of the primary mirror had been dinged by a micrometeorite bigger than the agency had expected when it analyzed the potential results of such impacts. "Things do degrade over time," Feinberg said. But he added that Webb had been engineered to minimize damage, and NASA said the event had not affected Webb's operation schedule.




Correction 26-28 July 2022: The story was updated a) to reflect the fact that the Lagrange point L2 where Webb now orbits is not that of the "Earth-moon system" (as the story had originally reported) but rather the Earth-sun system
and b) to correct misstatements in the original posting about Webb's hardware for controlling its orientation.


Match ID: 20 Score: 2.14 source: spectrum.ieee.org age: 34 days
qualifiers: 2.14 toxic

City heat extremes
Wed, 06 Jul 2022 13:30:00 +0200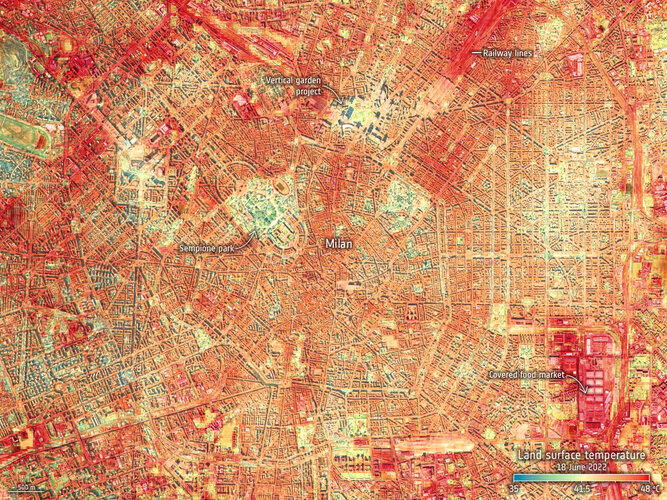 With air temperatures in excess of 10°C above the average for the time of year in parts of Europe, the United States and Asia, June 2022 has gone down as a record breaker. The fear is that these extreme early-season heatwaves are a taste of what could soon be the norm as climate change continues to take hold. For those in cities, the heat dissipates slower creating 'urban heat islands', which make everyday life even more of a struggle.

An instrument, carried on the International Space Station, has captured the recent land-surface temperature extremes for some European cities, including Milan, Paris and Prague.


Match ID: 21 Score: 2.14 source: www.esa.int age: 34 days
qualifiers: 2.14 climate change

NASA to Industry: Let's Develop Flight Tech to Reduce Carbon Emissions
Wed, 29 Jun 2022 14:25 EDT
NASA announced Wednesday the agency is seeking partners to develop technologies needed to shape a new generation of lower-emission, single-aisle airliners that passengers could see in airports in the 2030s.
Match ID: 22 Score: 2.14 source: www.nasa.gov age: 41 days
qualifiers: 2.14 carbon

NASA, FEMA Release Comprehensive Climate Action Guide
Wed, 08 Jun 2022 12:37 EDT
NASA and the Federal Emergency Management Agency (FEMA) have released a guide which provides resources for adapting to and mitigating impacts of climate change.
Match ID: 23 Score: 2.14 source: www.nasa.gov age: 62 days
qualifiers: 2.14 climate change

Why is climate 'doomism' going viral – and who's fighting it?
Sun, 22 May 2022 23:16:59 GMT
Climate "doomers" believe it's far too late to do anything about climate change - but they're wrong.
Match ID: 24 Score: 2.14 source: www.bbc.co.uk age: 79 days
qualifiers: 2.14 climate change

U.N. Kills Any Plans to Use Mercury as a Rocket Propellant
Tue, 19 Apr 2022 18:00:01 +0000





A recent United Nations provision has banned the use of mercury in spacecraft propellant. Although no private company has actually used mercury propellant in a launched spacecraft, the possibility was alarming enough—and the dangers extreme enough—that the ban was enacted just a few years after one U.S.-based startup began toying with the idea. Had the company gone through with its intention to sell mercury propellant thrusters to some of the companies building massive satellite constellations over the coming decade, it would have resulted in Earth's upper atmosphere being laced with mercury.

Mercury is a neurotoxin. It's also bio-accumulative, which means it's absorbed by the body at a faster rate than the body can remove it. The most common way to get mercury poisoning is through eating contaminated seafood. "It's pretty nasty," says Michael Bender, the international coordinator of the Zero Mercury Working Group (ZMWG). "Which is why this is one of the very few instances where the governments of the world came together pretty much unanimously and ratified a treaty."

Bender is referring to the 2013 Minamata Convention on Mercury, a U.N. treaty named for a city in Japan whose residents suffered from mercury poisoning from a nearby chemical factory for decades. Because mercury pollutants easily find their way into the oceans and the atmosphere, it's virtually impossible for one country to prevent mercury poisoning within its borders. "Mercury—it's an intercontinental pollutant," Bender says. "So it required a global treaty."

Today, the only remaining permitted uses for mercury are in fluorescent lighting and dental amalgams, and even those are being phased out. Mercury is otherwise found as a by-product of other processes, such as the burning of coal. But then a company hit on the idea to use it as a spacecraft propellant.

In 2018, an employee at Apollo Fusion approached the Public Employees for Environmental Responsibility (PEER), a nonprofit that investigates environmental misconduct in the United States. The employee—who has remained anonymous—alleged that the Mountain View, Calif.–based space startup was planning to build and sell thrusters that used mercury propellant to multiple companies building low Earth orbit (LEO) satellite constellations.

Four industry insiders ultimately confirmed that Apollo Fusion was building thrusters that utilized mercury propellant. Apollo Fusion, which was acquired by rocket manufacturing startup Astra in June 2021, insisted that the composition of its propellant mixture should be considered confidential information. The company withdrew its plans for a mercury propellant in April 2021. Astra declined to respond to a request for comment for this story.

Apollo Fusion wasn't the first to consider using mercury as a propellant. NASA originally tested it in the 1960s and 1970s with two Space Electric Propulsion Tests (SERT), one of which was sent into orbit in 1970. Although the tests demonstrated mercury's effectiveness as a propellant, the same concerns over the element's toxicity that have seen it banned in many other industries halted its use by the space agency as well.

"I think it just sort of fell off a lot of folks' radars," says Kevin Bell, the staff counsel for PEER. "And then somebody just resurrected the research on it and said, 'Hey, other than the environmental impact, this was a pretty good idea.' It would give you a competitive advantage in what I imagine is a pretty tight, competitive market."

That's presumably why Apollo Fusion was keen on using it in their thrusters. Apollo Fusion as a startup emerged more or less simultaneously with the rise of massive LEO constellations that use hundreds or thousands of satellites in orbits below 2,000 kilometers to provide continual low-latency coverage. Finding a slightly cheaper, more efficient propellant for one large geostationary satellite doesn't move the needle much. But doing the same for thousands of satellites that need to be replaced every several years? That's a much more noticeable discount.

Were it not for mercury's extreme toxicity, it would actually make an extremely attractive propellant. Apollo Fusion wanted to use a type of ion thruster called a Hall-effect thruster. Ion thrusters strip electrons from the atoms that make up a liquid or gaseous propellant, and then an electric field pushes the resultant ions away from the spacecraft, generating a modest thrust in the opposite direction. The physics of rocket engines means that the performance of these engines increases with the mass of the ion that you can accelerate.

Mercury is heavier than either xenon or krypton, the most commonly used propellants, meaning more thrust per expelled ion. It's also liquid at room temperature, making it efficient to store and use. And it's cheap—there's not a lot of competition with anyone looking to buy mercury.

Bender says that ZMWG, alongside PEER, caught wind of Apollo Fusion marketing its mercury-based thrusters to at least three companies deploying LEO constellations—One Web, Planet Labs, and SpaceX. Planet Labs, an Earth-imaging company, has at least 200 CubeSats in low Earth orbit. One Web and SpaceX, both wireless-communication providers, have many more. One Web plans to have nearly 650 satellites in orbit by the end of 2022. SpaceX already has nearly 1,500 active satellites aloft in its Starlink constellation, with an eye toward deploying as many as 30,000 satellites before its constellation is complete. Other constellations, like Amazon's Kuiper constellation, are also planning to deploy thousands of satellites.

In 2019, a group of researchers in Italy and the United States estimated how much of the mercury used in spacecraft propellant might find its way back into Earth's atmosphere. They figured that a hypothetical LEO constellation of 2,000 satellites, each carrying 100 kilograms of propellant, would emit 20 tonnes of mercury every year over the course of a 10-year life span. Three quarters of that mercury, the researchers suggested, would eventually wind up in the oceans.

That amounts to 1 percent of global mercury emissions from a constellation only a fraction of the size of the one planned by SpaceX alone. And if multiple constellations adopted the technology, they would represent a significant percentage of global mercury emissions—especially, the researchers warned, as other uses of mercury are phased out as planned in the years ahead.

Fortunately, it's unlikely that any mercury propellant thrusters will even get off the ground. Prior to the fourth meeting of the Minamata Convention, Canada, the European Union, and Norway highlighted the dangers of mercury propellant, alongside ZMWG. The provision to ban mercury usage in satellites was passed on 26 March 2022.

The question now is enforcement. "Obviously, there aren't any U.N. peacekeepers going into space to shoot down" mercury-based satellites, says Bell. But the 137 countries, including the United States, who are party to the convention have pledged to adhere to its provisions—including the propellant ban.

The United States is notable in that list because as Bender explains, it did not ratify the Minamata Convention via the U.S. Senate but instead deposited with the U.N. an instrument of acceptance. In a 7 November 2013 statement (about one month after the original Minamata Convention was adopted), the U.S. State Department said the country would be able to fulfill its obligations "under existing legislative and regulatory authority."

Bender says the difference is "weedy" but that this appears to mean that the U.S. government has agreed to adhere to the Minamata Convention's provisions because it already has similar laws on the books. Except there is still no existing U.S. law or regulation banning mercury propellant. For Bender, that creates some uncertainty around compliance when the provision goes into force in 2025.

Still, with a U.S. company being the first startup to toy with mercury propellant, it might be ideal to have a stronger U.S. ratification of the Minamata Convention before another company hits on the same idea. "There will always be market incentives to cut corners and do something more dangerously," Bell says.

Update 19 April 2022: In an email, a spokesperson for Astra stated that the company's propulsion system, the Astra Spacecraft Engine, does not use mercury. The spokesperson also stated that Astra has no plans to use mercury propellant and that the company does not have anything in orbit that uses mercury.


Updated 20 April 2022 to clarify that Apollo Fusion was building thrusters that used mercury, not that they had actually used them.


Match ID: 25 Score: 2.14 source: spectrum.ieee.org age: 112 days
qualifiers: 2.14 toxic

Ahrefs vs SEMrush: Which SEO Tool Should You Use?
Tue, 01 Mar 2022 12:16:00 +0000

SEMrush and Ahrefs are among the most popular tools in the SEO industry. Both companies have been in business for years and have thousands of customers per month.
If you're a professional SEO or trying to do digital marketing on your own, at some point you'll likely consider using a tool to help with your efforts. Ahrefs and SEMrush are two names that will likely appear on your shortlist.
In this guide, I'm going to help you learn more about these SEO tools and how to choose the one that's best for your purposes.
What is SEMrush?
SEMrush is a popular SEO tool with a wide range of features—it's the leading competitor research service for online marketers. SEMrush's SEO Keyword Magic tool offers over 20 billion Google-approved keywords, which are constantly updated and it's the largest keyword database.
The program was developed in 2007 as SeoQuake is a small Firefox extension
Features
Most accurate keyword data: Accurate keyword search volume data is crucial for SEO and PPC campaigns by allowing you to identify what keywords are most likely to bring in big sales from ad clicks. SEMrush constantly updates its databases and provides the most accurate data.
Largest Keyword database: SEMrush's Keyword Magic Tool now features 20-billion keywords, providing marketers and SEO professionals the largest database of keywords.



All SEMrush users receive daily ranking data, mobile volume information, and the option to buy additional keywords by default with no additional payment or add-ons needed

Most accurate position tracking tool: This tool provides all subscribers with basic tracking capabilities, making it suitable for SEO professionals. Plus, the Position Tracking tool provides local-level data to everyone who uses the tool.
SEO Data Management: SEMrush makes managing your online data easy by allowing you to create visually appealing custom PDF reports, including Branded and White Label reports, report scheduling, and integration with GA, GMB, and GSC.
Toxic link monitoring and penalty recovery: With SEMrush, you can make a detailed analysis of toxic backlinks, toxic scores, toxic markers, and outreach to those sites.
Content Optimization and Creation Tools: SEMrush offers content optimization and creation tools that let you create SEO-friendly content. Some features include the SEO Writing Assistant, On-Page SEO Check, er/SEO Content Template, Content Audit, Post Tracking, Brand Monitoring.
Ahrefs
Ahrefs is a leading SEO platform that offers a set of tools to grow your search traffic, research your competitors, and monitor your niche. The company was founded in 2010, and it has become a popular choice among SEO tools. Ahrefs has a keyword index of over 10.3 billion keywords and offers accurate and extensive backlink data updated every 15-30 minutes and it is the world's most extensive backlink index database.
Features
Backlink alerts data and new keywords: Get an alert when your site is linked to or discussed in blogs, forums, comments, or when new keywords are added to a blog posting about you.
Intuitive interface: The intuitive design of the widget helps you see the overall health of your website and search engine ranking at a glance.
Site Explorer: The Site Explorer will give you an in-depth look at your site's search traffic.

Domain Comparison

Reports with charts and graphs

JavaScript rendering and a site audit can identify SEO issues.

A question explorer that provides well-crafted topic suggestions
Direct Comparisons: Ahrefs vs SEMrush
Now that you know a little more about each tool, let's take a look at how they compare. I'll analyze each tool to see how they differ in interfaces, keyword research resources, rank tracking, and competitor analysis.
User Interface
Ahrefs and SEMrush both offer comprehensive information and quick metrics regarding your website's SEO performance. However, Ahrefs takes a bit more of a hands-on approach to getting your account fully set up, whereas SEMrush's simpler dashboard can give you access to the data you need quickly.
In this section, we provide a brief overview of the elements found on each dashboard and highlight the ease with which you can complete tasks.
AHREFS
The Ahrefs dashboard is less cluttered than that of SEMrush, and its primary menu is at the very top of the page, with a search bar designed only for entering URLs.
Additional features of the Ahrefs platform include:
You can see analytics from the dashboard, including search engine rankings to domain ratings, referring domains, and backlink

Jumping from one tool to another is easy. You can use the Keyword Explorer to find a keyword to target and then directly track your ranking with one click.

The website offers a tooltip helper tool that allows you to hover your mouse over something that isn't clear and get an in-depth explanation.
SEMRUSH
When you log into the SEMrush Tool, you will find four main modules. These include information about your domains, organic keyword analysis, ad keyword, and site traffic.
You'll also find some other options like
A search bar allows you to enter a domain, keyword, or anything else you wish to explore.

A menu on the left side of the page provides quick links to relevant information, including marketing insights, projects, keyword analytics, and more.

The customer support resources located directly within the dashboard can be used to communicate with the support team or to learn about other resources such as webinars and blogs.

Detailed descriptions of every resource offered. This detail is beneficial for new marketers, who are just starting.
WHO WINS?
Both Ahrefs and SEMrush have user-friendly dashboards, but Ahrefs is less cluttered and easier to navigate. On the other hand, SEMrush offers dozens of extra tools, including access to customer support resources.
When deciding on which dashboard to use, consider what you value in the user interface, and test out both.
Rank Tracking
If you're looking to track your website's search engine ranking, rank tracking features can help. You can also use them to monitor your competitors.
Let's take a look at Ahrefs vs. SEMrush to see which tool does a better job.
Ahrefs
The Ahrefs Rank Tracker is simpler to use. Just type in the domain name and keywords you want to analyze, and it spits out a report showing you the search engine results page (SERP) ranking for each keyword you enter.
Rank Tracker looks at the ranking performance of keywords and compares them with the top rankings for those keywords. Ahrefs also offers:
You'll see metrics that help you understand your visibility, traffic, average position, and keyword difficulty.
It gives you an idea of whether a keyword would be profitable to target or not.
SEMRUSH
SEMRush offers a tool called Position Tracking. This tool is a project tool—you must set it up as a new project. Below are a few of the most popular features of the SEMrush Position Tracking tool:
All subscribers are given regular data updates and mobile search rankings upon subscribing
The platform provides opportunities to track several SERP features, including Local tracking.
Intuitive reports allow you to track statistics for the pages on your website, as well as the keywords used in those pages.
Identify pages that may be competing with each other using the Cannibalization report.
WHO WINS?
Ahrefs is a more user-friendly option. It takes seconds to enter a domain name and keywords. From there, you can quickly decide whether to proceed with that keyword or figure out how to rank better for other keywords.
SEMrush allows you to check your mobile rankings and ranking updates daily, which is something Ahrefs does not offer. SEMrush also offers social media rankings, a tool you won't find within the Ahrefs platform. Both are good which one do you like let me know in the comment.
Keyword Research
Keyword research is closely related to rank tracking, but it's used for deciding which keywords you plan on using for future content rather than those you use now.
When it comes to SEO, keyword research is the most important thing to consider when comparing the two platforms.
AHREFS
The Ahrefs Keyword Explorer provides you with thousands of keyword ideas and filters search results based on the chosen search engine.
Ahrefs supports several features, including:
It can search multiple keywords in a single search and analyze them together. At SEMrush, you also have this feature in Keyword Overview.

Ahrefs has a variety of keywords for different search engines, including Google, YouTube, Amazon, Bing, Yahoo, Yandex, and other search engines.

When you click on a keyword, you can see its search volume and keyword difficulty, but also other keywords related to it, which you didn't use.
SEMRUSH
SEMrush's Keyword Magic Tool has over 20 billion keywords for Google. You can type in any keyword you want, and a list of suggested keywords will appear.
The Keyword Magic Tool also lets you to:
Show performance metrics by keyword

Search results are based on both broad and exact keyword matches.

Show data like search volume, trends, keyword difficulty, and CPC.

Show the first 100 Google search results for any keyword.

Identify SERP Features and Questions related to each keyword

SEMrush has released a new Keyword Gap Tool that uncovers potentially useful keyword opportunities for you, including both paid and organic keywords.
WHO WINS?
Both of these tools offer keyword research features and allow users to break down complicated tasks into something that can be understood by beginners and advanced users alike.
If you're interested in keyword suggestions, SEMrush appears to have more keyword suggestions than Ahrefs does. It also continues to add new features, like the Keyword Gap tool and SERP Questions recommendations.
Competitor Analysis
Both platforms offer competitor analysis tools, eliminating the need to come up with keywords off the top of your head. Each tool is useful for finding keywords that will be useful for your competition so you know they will be valuable to you.
AHREFS
Ahrefs' domain comparison tool lets you compare up to five websites (your website and four competitors) side-by-side.it also shows you how your site is ranked against others with metrics such as backlinks, domain ratings, and more.
Use the Competing Domains section to see a list of your most direct competitors, and explore how many keywords matches your competitors have.
To find more information about your competitor, you can look at the Site Explorer and Content Explorer tools and type in their URL instead of yours.
SEMRUSH
SEMrush provides a variety of insights into your competitors' marketing tactics. The platform enables you to research your competitors effectively. It also offers several resources for competitor analysis including:
Traffic Analytics helps you identify where your audience comes from, how they engage with your site, what devices visitors use to view your site, and how your audiences overlap with other websites.
SEMrush's Organic Research examines your website's major competitors and shows their organic search rankings, keywords they are ranking for, and even if they are ranking for any (SERP) features and more.
The Market Explorer search field allows you to type in a domain and lists websites or articles similar to what you entered. Market Explorer also allows users to perform in-depth data analytics on These companies and markets.
WHO WINS?
SEMrush wins here because it has more tools dedicated to competitor analysis than Ahrefs. However, Ahrefs offers a lot of functionality in this area, too. It takes a combination of both tools to gain an advantage over your competition.
Pricing
Ahrefs
Lite Monthly: $99/month

Standard Monthly: $179/month

Annually Lite: $990/year

Annually Standard: $1790/year
SEMRUSH
Which SEO tool should you choose for digital marketing?
When it comes to keyword data research, you will become confused about which one to choose.
Consider choosing Ahrefs if you
Like friendly and clean interface

Searching for simple keyword suggestions
Want to get more keywords for different search engines like Amazon, Bing, Yahoo, Yandex, Baidu, and more
Consider SEMrush if you:
Want more marketing and SEO features

Need competitor analysis tool

Need to keep your backlinks profile clean

Looking for more keyword suggestions for Google
Both tools are great. Choose the one which meets your requirements and if you have any experience using either Ahrefs or SEMrush let me know in the comment section which works well for you.


Match ID: 26 Score: 2.14 source: www.crunchhype.com age: 161 days
qualifiers: 2.14 toxic

Eviation's Maiden Flight Could Usher in Electric Aviation Era
Mon, 07 Feb 2022 19:01:19 +0000

The first commercial all-electric passenger plane is just weeks away from its maiden flight, according to its maker Israeli startup Eviation. If successful, the nine-seater Alice aircraft would be the most compelling demonstration yet of the potential for battery-powered flight. But experts say there's still a long way to go before electric aircraft makes a significant dent in the aviation industry.
The Alice is currently undergoing high-speed taxi tests at Arlington Municipal Airport close to Seattle, says Eviation CEO Omer Bar-Yohay. This involves subjecting all of the plane's key systems and fail-safe mechanisms to a variety of different scenarios to ensure they are operating as expected before its first flight. The company is five or six good weather days away from completing those tests, says Bar-Yohay, after which the plane should be cleared for takeoff. Initial flights won't push the aircraft to its limits, but the Alice should ultimately be capable of cruising speeds of 250 knots (463 kilometers per hour) and a maximum range of 440 nautical miles (815 kilometers).

Electric aviation has received considerable attention in recent years as the industry looks to reduce its carbon emissions. And while the Alice won't be the first all-electric aircraft to take to the skies, Bar-Yohay says it will be the first designed with practical commercial applications in mind. Eviation plans to offer three configurations—a nine-seater commuter model, a six-seater executive model for private jet customers, and a cargo version with a capacity of 12.74 cubic meters. The company has already received advance orders from logistics giant DHL and Massachusetts-based regional airline Cape Air.

"It's not some sort of proof-of-concept or demonstrator," says Bar-Yohay. "It's the first all-electric with a real-life mission, and I think that's the big differentiator."

Getting there has required a major engineering effort, says Bar-Yohay, because the requirements for an all-electric plane are very different from those of conventional aircraft. The biggest challenge is weight, thanks to the fact that batteries provide considerably less mileage to the pound compared to energy-dense jet fuels.

That makes slashing the weight of other components a priority and the plane features lightweight composite materials "where no composite has gone before,"', says Bar-Yohay. The company has also done away with the bulky mechanical systems used to adjust control surfaces on the wings, and replaced them with a much lighter fly-by-wire system that uses electronic actuators controlled via electrical wires.

The company's engineers have had to deal with a host of other complications too, from having to optimize the aerodynamics to the unique volume and weight requirements dictated by the batteries to integrating brakes designed for much heavier planes. "There is just so much optimization, so many specific things that had to be solved," says Bar-Yohay. "In some cases, there are just no components out there that do what you need done, which weren't built for a train, or something like that."

Despite the huge amount of work that's gone into it, Bar-Yohay says the Alice will be comparable in price to similar sized turboprop aircraft like the Beechcraft King Air and cheaper than small business jets like the Embraer Phenom 300. And crucially, he adds, the relative simplicity of electrical motors and actuators compared with mechanical control systems and turboprops or jets means maintenance costs will be markedly lower.

This is a conceptual rendering of Eviation's Alice, the first commercial all-electric passenger plane, in flight.Eviation

Combined with the lower cost of electricity compared to jet fuel, and even accounting for the need to replace batteries every 3,000 flight hours, Eviation expects Alice's operating costs to be about half those of similar sized aircraft.


But there are question marks over whether the plane has an obvious market, says aviation analyst Richard Aboulafia, managing director at AeroDynamic Advisory. It's been decades since anyone has built a regional commuter with less than 70 seats, he says, and most business jets typically require more than the 440 nautical mile range the Alice offers. Scaling up to bigger aircraft or larger ranges is also largely out of the company's hands as it will require substantial breakthroughs in battery technology. "You need to move on to a different battery chemistry," he says. "There isn't even a 10-year road map to get there."


An aircraft like the Alice isn't meant to be a straight swap for today's short-haul aircraft though, says Lynette Dray, a research fellow at University College London who studies the decarbonization of aviation. More likely it would be used for short intercity hops or for creating entirely new route networks better suited to its capabilities.


This is exactly what Bar-Yohay envisages, with the Alice's reduced operating costs opening up new short-haul routes that were previously impractical or uneconomical. It could even make it feasible to replace larger jets with several smaller ones, he says, allowing you to provide more granular regional travel by making use of the thousands of runways around the country currently used only for recreational aviation.


The economics are far from certain though, says Dray, and if the ultimate goal is to decarbonize the aviation sector, it's important to remember that aircraft are long-lived assets. In that respect, sustainable aviation fuels that can be used by existing aircraft are probably a more promising avenue.


Even if the Alice's maiden flight goes well, it still faces a long path to commercialization, says Kiruba Haran, a professor of electrical and computer engineering at the University of Illinois at Urbana-Champaign. Aviation's stringent safety requirements mean the company must show it can fly the aircraft for a long period, over and over again without incident, which has yet to be done with an all-electric plane at this scale.


Nonetheless, if the maiden flight goes according to plan it will be a major milestone for electric aviation, says Haran. "It's exciting, right?" he says. "Anytime we do something more than, or further than, or better than, that's always good for the industry."


And while battery-powered electric aircraft may have little chance of disrupting the bulk of commercial aviation in the near-term, Haran says hybrid schemes that use a combination of batteries and conventional fuels (or even hydrogen) to power electric engines could have more immediate impact. The successful deployment of the Alice could go a long way to proving the capabilities of electric propulsion and building momentum behind the technology, says Haran.


"There are still a lot of skeptics out there," he says. "This kind of flight demo will hopefully help bring those people along."


Match ID: 27 Score: 2.14 source: spectrum.ieee.org age: 183 days
qualifiers: 2.14 carbon

Spin Me Up, Scotty—Up Into Orbit
Fri, 21 Jan 2022 16:34:49 +0000





At first, the dream of riding a rocket into space was laughed off the stage by critics who said you'd have to carry along fuel that weighed more than the rocket itself. But the advent of booster rockets and better fuels let the dreamers have the last laugh.


Hah, the critics said: To put a kilogram of payload into orbit we just need 98 kilograms of rocket plus rocket fuel.

What a ratio, what a cost. To transport a kilogram of cargo, commercial air freight services typically charge about US $10; spaceflight costs reach $10,000. Sure, you can save money by reusing the booster, as Elon Musk and Jeff Bezos are trying to do, but it would be so much better if you could dispense with the booster and shoot the payload straight into space.

The first people to think along these lines used cannon launchers, such as those in Project HARP (High Altitude Research Project), in the 1960s. Research support dried up after booster rockets showed their mettle. Another idea was to shoot payloads into orbit along a gigantic electrified ramp, called a railgun, but that technology still faces hurdles of a basic scientific nature, not least the need for massive banks of capacitors to provide the jolt of energy.

Imagine a satellite spinning in a vacuum chamber at many times the speed of sound. The gates of that chamber open up, and the satellite shoots out faster than the air outside can rush back in—creating a sonic boom when it hits the wall of air.

Now SpinLaunch, a company founded in 2015 in Long Beach, Calif., proposes a gentler way to heave satellites into orbit. Rather than shoot the satellite in a gun, SpinLaunch would sling it from the end of a carbon-fiber tether that spins around in a vacuum chamber for as long as an hour before reaching terminal speed. The tether lets go milliseconds before gates in the chamber open up to allow the satellite out.

"Because we're slowly accelerating the system, we can keep the power demands relatively low," David Wrenn, vice president for technology, tells IEEE Spectrum. "And as there's a certain amount of energy stored in the tether itself, you can recapture that through regenerative braking."

The company reports they've raised about $100 million. Among the backers are the investment arms of Airbus and Google and the Defense Innovation Unit, part of the U.S. Department of Defense.

SpinLaunch began with a lab centrifuge that measures about 12 meters in diameter. In November, a 33-meter version at Space Port America test-launched a payload thousands of meters up. Such a system could loft a small rocket, which would finish the job of reaching orbit. A 100-meter version, now in the planning stage, should be able to handle a 200-kg payload.

Wrenn answers all the obvious questions. How can the tether withstand the g-force when spinning at hypersonic speed? "A carbon-fiber cable with a cross-sectional area of one square inch (6.5 square centimeters) can suspend a mass of 300,000 pounds (136,000 kg)," he says.

How much preparation do you need between shots? Not much, because the chamber doesn't have to be superclean. If the customer wants to loft a lot of satellites—a likely desideratum, given the trend toward massive constellations of small satellites–the setup could include motors powerful enough to spin up in 30 minutes. "Upwards of 10 launches per day are possible," Wrenn says.

How tight must the vacuum be? A "rough" vacuum suffices, he says. SpinLaunch maintains the vacuum with a system of airlocks operated by those millisecond-fast gates.

Most parts, including the steel for the vacuum chamber and carbon fiber, are off-the-shelf, but those gates are proprietary. All Wrenn will say is that they're not made of steel.

So imagine a highly intricate communications satellite, housed in some structure, spinning at many times the speed of sound. The gates open up, the satellite shoots out far faster than the air outside can rush back in. Then the satellite hits the wall of air, creating a sonic boom.

No problem, says Wrenn. Electronic systems have been hurtling from vacuums into air ever since the cannon-launching days of HARP, some 60 years ago. SpinLaunch has done work already on engineering certain satellite components to withstand the ordeal—"deployable solar panels, for example," he says.

After the online version of this article appeared, several readers objected to the SpinLaunch system, above all to the stress it would put on the liquid-fueled rocket at the end of that carbon-fiber tether.

"The system has to support up to 8,000 gs; most payloads at launch are rated at 6 or 10 gs," said John Bucknell, a rocket scientist who heads the startup Virtus Solis Technologies, which aims to collect solar energy in space and beam it to earth.

Keith Lostrom, a chip engineer, went even further. "Drop a brick onto an egg—that is a tiny fraction of the damage that SpinLaunch's centripedal acceleration would do to a liquid-fuel orbital launch rocket," he wrote, in an emailed message.


Wrenn denies that the g-force is a dealbreaker. For one thing, he argues, the turbopumps in liquid-fuel rockets spin at over 30,000 rotations per minute, subjecting the liquid oxygen and fuel to "much more aggressive conditions than the uniform g-force that SpinLaunch has."

Besides, he says, finite element analysis and high-g testing in the company's 12-meter accelerator "has led to confidence it's not a fundamental issue for us. We've already hot-fired our SpinLaunch-compatible upper-stage engine on the test stand."

SpinLaunch says it will announce the site for its full-scale orbital launcher within the next five months. It will likely be built on a coastline, far from populated areas and regular airplane service. Construction costs would be held down if the machine can be built up the side of a hill. If all goes well, expect to see the first satellite slung into orbit sometime around 2025.

This article was updated on 24 Feb. 2022 to include additional perspectives on the technology.



Match ID: 28 Score: 2.14 source: spectrum.ieee.org age: 200 days
qualifiers: 2.14 carbon

12 Exciting Engineering Milestones to Look for in 2022
Thu, 30 Dec 2021 16:00:00 +0000

Psyche's Deep-Space Lasers
MCKIBILLO
In August, NASA will launch the Psyche mission, sending a deep-space orbiter to a weird metal asteroid orbiting between Mars and Jupiter. While the probe's main purpose is to study Psyche's origins, it will also carry an experiment that could inform the future of deep-space communications. The Deep Space Optical Communications (DSOC) experiment will test whether lasers can transmit signals beyond lunar orbit. Optical signals, such as those used in undersea fiber-optic cables, can carry more data than radio signals can, but their use in space has been hampered by difficulties in aiming the beams accurately over long distances. DSOC will use a 4-watt infrared laser with a wavelength of 1,550 nanometers (the same used in many optical fibers) to send optical signals at multiple distances during Psyche's outward journey to the asteroid.
---
The Great Electric Plane Race
MCKIBILLO
For the first time in almost a century, the U.S.-based National Aeronautic Association (NAA) will host a cross-country aircraft race. Unlike the national air races of the 1920s, however, the Pulitzer Electric Aircraft Race, scheduled for 19 May, will include only electric-propulsion aircraft. Both fixed-wing craft and helicopters are eligible. The competition will be limited to 25 contestants, and each aircraft must have an onboard pilot. The course will start in Omaha and end four days later in Manteo, N.C., near the site of the Wright brothers' first flight. The NAA has stated that the goal of the cross-country, multiday race is to force competitors to confront logistical problems that still plague electric aircraft, like range, battery charging, reliability, and speed.
6-Gigahertz Wi-Fi Goes Mainstream
MCKIBILLO
Wi-Fi is getting a boost with 1,200 megahertz of new spectrum in the 6-gigahertz band, adding a third spectrum band to the more familiar 2.4 GHz and 5 GHz. The new band is called Wi-Fi 6E because it extends Wi-Fi's capabilities into the 6-GHz band. As a rule, higher radio frequencies have higher data capacity, but a shorter range. With its higher frequencies, 6-GHz Wi-Fi is expected to find use in heavy traffic environments like offices and public hotspots. The Wi-Fi Alliance introduced a Wi-Fi 6E certification program in January 2021, and the first trickle of 6E routers appeared by the end of the year. In 2022, expect to see a bonanza of Wi-Fi 6E–enabled smartphones.
3-Nanometer Chips Arrive
MCKIBILLO
Taiwan Semiconductor Manufacturing Co. (TSMC) plans to begin producing 3-nanometer semiconductor chips in the second half of 2022. Right now, 5-nm chips are the standard. TSMC will make its 3-nm chips using a tried-and-true semiconductor structure called the FinFET (short for "fin field-effect transistor"). Meanwhile, Samsung and Intel are moving to a different technique for 3 nm called nanosheet. (TSMC is eventually planning to abandon FinFETs.) At one point, TSMC's sole 3-nm chip customer for 2022 was Apple, for the latter's iPhone 14, but supply-chain issues have made it less certain that TSMC will be able to produce enough chips—which promise more design flexibility—to fulfill even that order.
Seoul Joins the Metaverse
MCKIBILLO
After Facebook (now Meta) announced it was hell-bent on making the metaverse real, a host of other tech companies followed suit. Definitions differ, but the basic idea of the metaverse involves merging virtual reality and augmented reality with actual reality. Also jumping on the metaverse bandwagon is the government of the South Korean capital, Seoul, which plans to develop a "metaverse platform" by the end of 2022. To build this first public metaverse, Seoul will invest 3.9 billion won (US $3.3 million). The platform will offer public services and cultural events, beginning with the Metaverse 120 Center, a virtual-reality portal for citizens to address concerns that previously required a trip to city hall. Other planned projects include virtual exhibition halls for school courses and a digital representation of Deoksu Palace. The city expects the project to be complete by 2026.
IBM's Condors Take Flight
MCKIBILLO
In 2022, IBM will debut a new quantum processor—its biggest yet—as a stepping-stone to a 1,000-qubit processor by the end of 2023. This year's iteration will contain 433 qubits, three times as much as the company's 127-qubit Eagle processor, which was launched last year. Following the bird theme, the 433- and 1,000-qubit processors will be named Condor. There have been quantum computers with many more qubits; D-Wave Systems, for example, announced a 5,000-qubit computer in 2020. However, D-Wave's computers are specialized machines for optimization problems. IBM's Condors aim to be the largest general-purpose quantum processors.
New Dark-Matter Detector
MCKIBILLO
The Forward Search Experiment (FASER) at CERN is slated to switch on in July 2022. The exact date depends on when the Large Hadron Collider is set to renew proton-proton collisions after three years of upgrades and maintenance. FASER will begin a hunt for dark matter and other particles that interact extremely weakly with "normal" matter. CERN, the fundamental physics research center near Geneva, has four main detectors attached to its Large Hadron Collider, but they aren't well-suited to detecting dark matter. FASER won't attempt to detect the particles directly; instead, it will search for the more strongly interacting Standard Model particles created when dark matter interacts with something else. The new detector was constructed while the collider was shut down from 2018 to 2021. Located 480 meters "downstream" of the ATLAS detector, FASER will also hunt for neutrinos produced in huge quantities by particle collisions in the LHC loop. The other CERN detectors have so far failed to detect such neutrinos.
Pong Turns 50
MCKIBILLO
Atari changed the course of video games when it released its first game, Pong, in 1972. While not the first video game—or even the first to be presented in an upright, arcade-style cabinet—Pong was the first to be commercially successful. The game was developed by engineer Allan Alcorn and originally assigned to him as a test after he was hired, before he began working on actual projects. However, executives at Atari saw potential in Pong's simple game play and decided to develop it into a real product. Unlike the countless video games that came after it, the original Pong did not use any code or microprocessors. Instead, it was built from a television and transistor-transistor logic.
The Green Hydrogen Boom
MCKIBILLO
Utility company Energias de Portugal (EDP), based in Lisbon, is on track to begin operating a 3-megawatt green hydrogen plant in Brazil by the end of the year. Green hydrogen is hydrogen produced in sustainable ways, using solar or wind-powered electrolyzers to split water molecules into hydrogen and oxygen. According to the International Energy Agency, only 0.1 percent of hydrogen is produced this way. The plant will replace an existing coal-fired plant and generate hydrogen—which can be used in fuel cells—using solar photovoltaics. EDP's roughly US $7.9 million pilot program is just the tip of the green hydrogen iceberg. Enegix Energy has announced plans for a $5.4 billion green hydrogen plant in the same Brazilian state, Ceará, where the EDP plant is being built. The green hydrogen market is predicted to generate a revenue of nearly $10 billion by 2028, according to a November 2021 report by Research Dive.
A Permanent Space Station for China
MCKIBILLO
China is scheduled to complete its Tiangong ("Heavenly Palace") space station in 2022. The station, China's first long-term space habitat, was preceded by the Tiangong-1 and Tiangong-2 stations, which orbited from 2011 to 2018 and 2016 to 2019, respectively. The new station's core module, the Tianhe, was launched in April 2021. A further 10 missions by the end of 2022 will deliver other components and modules, with construction to be completed in orbit. The final station will have two laboratory modules in addition to the core module. Tiangong will orbit at roughly the same altitude as the International Space Station but will be only about one-fifth the mass of the ISS.
A Cool Form of Energy Storage
MCKIBILLO
Cryogenic energy-storage company Highview Power will begin operations at its Carrington plant near Manchester, England, this year. Cryogenic energy storage is a long-term method of storing electricity by cooling air until it liquefies (about –196 °C). Crucially, the air is cooled when electricity is cheaper—at night, for example—and then stored until electricity demand peaks. The liquid air is then allowed to boil back into a gas, which drives a turbine to generate electricity. The 50-megawatt/250-megawatt-hour Carrington plant will be Highview Power's first commercial plant using its cryogenic storage technology, dubbed CRYOBattery. Highview Power has said it plans to build a similar plant in Vermont, although it has not specified a timeline yet.
Carbon-Neutral Cryptocurrency?
MCKIBILLO

Seattle-based startup Nori is set to offer a cryptocurrency for carbon removal. Nori will mint 500 million tokens of its Ethereum-based currency (called NORI). Individuals and companies can purchase and trade NORI, and eventually exchange any NORI they own for an equal number of carbon credits. Each carbon credit represents a tonne of carbon dioxide that has already been removed from the atmosphere and stored in the ground. When exchanged in this way, a NORI is retired, making it impossible for owners to try to "double count" carbon credits and therefore seem like they're offsetting more carbon than they actually have. The startup has acknowledged that Ethereum and other blockchain-based technologies consume an enormous amount of energy, so the carbon it sequesters could conceivably originate in cryptocurrency mining. However, 2022 will also see Ethereum scheduled to switch to a much more energy-efficient method of verifying its blockchain, called proof-of-stake, which Nori will take advantage of when it launches.


Match ID: 29 Score: 2.14 source: spectrum.ieee.org age: 222 days
qualifiers: 2.14 carbon

Filter efficiency 96.068 (30 matches/763 results)


********** HEALTH **********
return to top



Here's what muscle memory really means, and how to use it
Tue, 9 Aug 2022 08:00:02 EDT
It turns out that muscle memory is not just in the mind. It's in the muscle fibers, too.
Match ID: 0 Score: 35.00 source: www.washingtonpost.com age: 0 days
qualifiers: 35.00 fitness

11 Rapid At-Home Covid-19 Tests—and Where to Find Them
Tue, 09 Aug 2022 11:00:00 +0000
How accurate are over-the-counter swabs? Does your insurance cover them? We have answers.
Match ID: 1 Score: 35.00 source: www.wired.com age: 0 days
qualifiers: 35.00 fitness

Planet Fitness matches on profit expectations and same-store sales beats, but misses on revenue
Tue, 09 Aug 2022 10:51:29 GMT


Planet Fitness Inc. reported Tuesday second-quarter profit that was in line with expectations but revenue that missed, while same-store sales rose more than forecast. Net income that rose to $22.3 million, or 26 cents a share, from $14.0 million, or 17 cents a share, in the year-ago period. Excluding nonrecurring items, adjusted earnings per share of 38 cents matched the FactSet consensus. Revenue grew 63.5% to $224.4 million, above the FactSet consensus of $230.1 million, while same-store sales growth of 13.6% beat expectations of an 11.0% rise. "During the second quarter, our join trend returned to pre-pandemic seasonality with the addition of approximately 300,000 net new members, ending the quarter with more than 16.5 million," said Chief Executive Chris Rondeau. The company affirmed its 2022 guidance for same-store sales growth in the low double-digit percentage range and for revenue to rise in the mid-50% range. The stock, which was still inactive in premarket trading, has rallied 17.5% over the past three months, while the S&P 500 has gained 3.7%.

Market Pulse Stories are Rapid-fire, short news bursts on stocks and markets as they move. Visit MarketWatch.com for more information on this news.


Match ID: 2 Score: 35.00 source: www.marketwatch.com age: 0 days
qualifiers: 35.00 fitness

The Best Theragun (and Other Great Massage Guns)
Mon, 08 Aug 2022 13:00:00 +0000
Therabody's percussive therapy devices help soothe achy muscles. Here's our guide to its lineup—and some cheaper alternatives.
Match ID: 3 Score: 35.00 source: www.wired.com age: 1 day
qualifiers: 35.00 fitness

Gymnastics Australia asked child athletes who reported abuse to sign gag orders before meetings
Wed, 10 Aug 2022 02:14:59 GMT


Governing body's letter says complainants and families must sign non-disclosure agreement for restorative justice process

Gymnastics Australia has told child gymnasts who made abuse complaints and their families that they must sign non-disclosure agreements if they wish to take part in a restorative justice process.

In a letter sent to the complainants last month, Gymnastics Australia said that, in a bid to "repair relations in the gymnastics community" after the release of a Human Rights Commission investigation that uncovered systematic abuse in the sport, it was holding a series of restorative meetings.

Sign up to receive an email with the top stories from Guardian Australia every morning

Continue reading...
Match ID: 4 Score: 15.00 source: www.theguardian.com age: 0 days
qualifiers: 15.00 athlete

Tom Daley: Illegal to Be Me review – a beautiful, moving protest against homophobia
Tue, 09 Aug 2022 21:00:33 GMT


What starts as a documentary trying to ban countries with anti-LGBTQ+ laws from hosting the Commonwealth Games blossoms into something deeper – and far more touching


Since he came out at the age of 19, in a sweet and open video revealing that he was in a relationship with a man, the Olympic champion diver Tom Daley has been vocal about supporting LGBTQ+ rights and causes. He has used his platform to speak passionately about wanting to inspire young gay people and to support queer athletes from around the world – from his post-gold-medal press conference at the Tokyo Olympics to his Alternative Christmas Message on Channel 4 last year. Now, with Tom Daley: Illegal to Be Me (BBC One), he is attempting to get practical about tackling homophobia in sport.

Daley has not been competing at the 2022 Commonwealth Games in Birmingham, but he is using the occasion to press for action. There is anti-gay legislation in 35 of the 54 member states taking part in the Games. In some, homosexuality is punishable by death. Daley starts the film with a simple, if crude, idea: that countries with anti-LGBTQ+ laws should not be permitted to host the Games. He plans to visit some of these countries to meet LGBTQ+ athletes and public figures – as well as many who remain private out of fear for their safety – to find out what their lives are like in an environment that is deeply hostile to their very existence.

Continue reading...
Match ID: 5 Score: 15.00 source: www.theguardian.com age: 0 days
qualifiers: 15.00 athlete

The Guardian view on Birmingham's Commonwealth Games: a bullish experience | Editorial
Tue, 09 Aug 2022 17:38:23 GMT


A hugely successful festival of sport showcased a diverse, optimistic city to the world

They were nothing if not eclectic. The 2022 Commonwealth Games opened with a message from the human rights activist Malala Yousafzai, who completed her school years in Edgbaston, and an appearance by a giant animatronic bull. The closing ceremony finished with fireworks, bursts of flame and Ozzy Osbourne sporting a gothic black cape, shouting: "Birmingham for ever!" In between, a city that has much to be proud of pulled off a show that will further boost its growing self-confidence.

An estimated 1.5 million tickets were sold over 11 days of events, making these Commonwealth Games among the best-attended in history. Given that Birmingham had stepped into the breach when Durban, the planned host city, ran into financial difficulties, this was a fine achievement. On track and field, athletes from the 72 Commonwealth nations did not disappoint. An epic 10,000m contest between Scotland's Eilish McColgan and Kenya's Irene Cheptai will live long in the memory of the capacity crowd that witnessed it (as will the sight of the victorious McColgan embracing her mother, Liz, who won the same race in 1986 and 1990).

Continue reading...
Match ID: 6 Score: 15.00 source: www.theguardian.com age: 0 days
qualifiers: 15.00 athlete

Serena Williams announces she will retire from tennis after glittering career
Tue, 09 Aug 2022 13:42:24 GMT

Winner of 23 grand slam titles cites family reasons for decision
American suggests the US Open will be her final tournament
Serena Williams, one of the greatest athletes of all time and a 23-time grand slam singles champion, has announced that she is retiring from professional tennis, indicating she could step away after the upcoming US Open.

In a column for Vogue, the 40-year-old Williams described her intention to finish her playing career as an "evolution" away from tennis. "I have never liked the word retirement," she wrote. "Maybe the best word to describe what I'm up to is evolution. I'm here to tell you that I'm evolving away from tennis, toward other things that are important to me."

Continue reading...
Match ID: 7 Score: 15.00 source: www.theguardian.com age: 0 days
qualifiers: 15.00 athlete

Toni Minichiello banned for life by UK Athletics over sexually inappropriate conduct
Tue, 09 Aug 2022 10:00:08 GMT

Former coach of Ennis-Hill engaged in bullying behaviour
Multiple female athletes and coaches lodged complaints
Toni Minichiello, the coach who guided Jessica Ennis-Hill to gold at the London 2012 Olympic Games, has been banned for life from training athletes after an investigation found he had engaged in sexually inappropriate behaviour, emotional abuse and bullying.

In a statement, UK Athletics said the findings of a disciplinary panel were "of the utmost seriousness", and included gross breaches of trust by Minichiello, which had led to severe consequences for the mental health and wellbeing of some of his athletes.

Continue reading...
Match ID: 8 Score: 15.00 source: www.theguardian.com age: 0 days
qualifiers: 15.00 athlete

Top 10 Best PLR(Private Label Rights) Websites | Which One You Should Join in 2022?
Sat, 26 Feb 2022 13:36:00 +0000


Content creation is one of the biggest struggles for many marketers and business owners. It often requires both time and financial resources, especially if you plan to hire a writer.


Today, we have a fantastic opportunity to use other people's products by purchasing Private Label Rights.


To find a good PLR website, first, determine the type of products you want to acquire. One way to do this is to choose among membership sites or PLR product stores. Following are 10 great sites that offer products in both categories.

What are PLR websites?
Private Label Rights (PLR) products are digital products that can be in the form of an ebook, software, online course videos, value-packed articles, etc. You can use these products with some adjustments to sell as your own under your own brand and keep all the money and profit yourself without wasting your time on product creation.

The truth is that locating the best website for PLR materials can be a time-consuming and expensive exercise. That's why we have researched, analyzed, and ranked the best 10 websites:
1. PLR.me
PLR.me is of the best places to get PLR content in 2021-2022. It offers a content marketing system that comes with courses, brandable tools, and more. It is the most trusted PLR website, among other PLR sites. The PLR.me platform features smart digital caching PLR tools for health and wellness professionals. The PLR.me platform, which was built on advanced caching technology, has been well-received by big brands such as Toronto Sun and Entrepreneur. The best thing about this website is its content marketing automation tools.

Pricing
Pay-as-you-go Plan – $22

100 Monthly Plan – $99/month

400 Annual Plan – $379/year

800 Annual Plan – $579/year

2500 Annual Plan – $990/year
Pros
Access over 15,940+ ready-to-use PLR coaching resources.

Content marketing and sliding tools are provided by the site.

You can create courses, products, webinars, emails, and nearly anything else you can dream of.

You can cancel your subscription anytime.
Cons
2. InDigitalWorks
InDigitalWorks is a leading private label rights membership website established in 2008. As of now, it has more than 100,000 members from around the globe have joined the platform. The site offers thousands of ready-to-be-sold digital products for online businesses in every single niche possible. InDigitalWorks features hundreds of electronic books, software applications, templates, graphics, videos that you can sell right away.

Pricing:
3 Months Plan – $39

1 Year Plan – $69

Lifetime Plan – $79
Pros
IndigitalWorks promotes new authors by providing them with 200 free products for download.

Largest and most reputable private label rights membership site.

20000+ digital products

137 training videos provided by experts to help beginners set up and grow their online presence for free.

10 GB of web hosting will be available on a reliable server.
Cons
3. BuyQualityPLR
BuyQualityPLR's website is a Top PLR of 2021-2022! It's a source for major Internet Marketing Products and Resources. Whether you're an Affiliate Marketer, Product Creator, Course Seller, BuyQualityPLR can assist you in the right direction. You will find several eBooks and digital products related to the Health and Fitness niche, along with a series of Security-based products. If you search for digital products, Resell Rights Products, Private Label Rights Products, or Internet Marketing Products, BuyQualityPLR is among the best websites for your needs.

Pricing
Free PLR articles packs, ebooks, and other digital products are available

Price ranges from 3.99$ to 99.9$
Pros
Everything on this site is written by professionals

The quick download features available

Doesn't provide membership.

Offers thousand of PLR content in many niches

Valuable courses available
Cons
4. IDPLR
The IDPLR website has helped thousands of internet marketers since 2008. This website follows a membership approach and allows you to gain access to thousands of PLR products in different niches. The best thing about this site is the quality of the products, which is extremely impressive.

This is the best PLR website of 2021-2022, offering over 200k+ high-quality articles. It also gives you graphics, templates, ebooks, and audio.

Pricing
3 Months ACCESS: $39

1 YEAR ACCESS: $69

LIFETIME ACCESS: $79
Pros
You will have access to over 12,590 PLR products.

You will get access to training tutorials and Courses in a Gold membership.

10 GB of web hosting will be available on a reliable server.

You will receive 3D eCover Software

It offers an unlimited download limit

Most important, you will get a 30 day money-back guarantee
Cons:
5. PLRMines
PLRmines is a leading digital product library for private label rights products. The site provides useful information on products that you can use to grow your business, as well as licenses for reselling the content. You can either purchase a membership or get access through a free trial, and you can find unlimited high-quality resources via the site's paid or free membership. Overall, the site is an excellent resource for finding outstanding private label rights content.

Pricing
Pros
4000+ ebooks from top categories

Members have access to more than 660 instructional videos covering all kinds of topics in a membership area.

You will receive outstanding graphics that are ready to use.

They also offer a variety of helpful resources and tools, such as PLR blogs, WordPress themes, and plugins
Cons
6. Super-Resell
Super-Resell is another remarkable provider of PLR material. The platform was established in 2009 and offers valuable PLR content to users. Currently, the platform offers standard lifetime memberships and monthly plans at an affordable price. Interested users can purchase up to 10,000 products with digital rights or rights of re-sale. Super-Resell offers a wide range of products such as readymade websites, article packs, videos, ebooks, software, templates, and graphics, etc.

Pricing
6 Months Membership: $49.90

Lifetime membership: $129
Pros
It offers you products that come with sales pages and those without sales pages.

You'll find thousands of digital products that will help your business grow.

Daily News update
Cons
7. Unstoppable PLR
UnStoppablePLR was launched in 2006 by Aurelius Tjin, an internet marketer. Over the last 15 years, UnStoppablePLR has provided massive value to users by offering high-quality PLR content. The site is one of the best PLR sites because of its affordability and flexibility.

Pricing
Pros
You'll get 30 PLR articles in various niches for free.

100% money-back guarantee.

Members get access to community

It gives you access to professionally designed graphics and much more.
Cons
8. Resell Rights Weekly
Resell Rights Weekly, a private label rights (PLR) website, provides exceptional PLR content. It is among the top free PLR websites that provide free membership. You will get 728+ PLR products completely free and new products every single week. The Resell Rights Weekly gives you free instant access to all products and downloads the ones you require.

Pricing
Pros
Lots of products available free of cost

Free access to the members forum
Cons
9. MasterResellRights
MasterResellRights was established in 2006, and it has helped many successful entrepreneurs. Once you join MasterResellRights, you will get access to more than 10,000 products and services from other members. It is one of the top PLR sites that provide high-quality PLR products to members across the globe. You will be able to access a lot of other membership privileges at no extra price. The website also provides PLR, MRR, and RR license products.

Pricing
⦁

One Month Membership: $19.97

⦁

Three Month Membership: $47.00

Pros
⦁

Access more than 10,000 high-quality, PLR articles in different niches.

⦁

Get daily fresh new updates

⦁

Users get 8 GB of hosting space

⦁

You can pay using PayPal

Cons
⦁

Only members have access to the features of this site.
10. BigProductStore
BigProductStore is a popular private label rights website that offers tens of thousands of digital products. These include software, videos, video courses, eBooks, and many others that you can resell, use as you want, or sell and keep 100% of the profit.

The PLR website updates its product list daily. It currently offers over 10,000 products.

The site offers original content for almost every niche and when you register as a member, you can access the exclusive products section where you can download a variety of high-quality, unique, and exclusive products.

Pricing
Monthly Plan: $19.90/Month 27% off

One-Time-Payment: $98.50 50% off

Monthly Ultimate: $29.90/Month 36% off

One-Time-Payment Ultimate: $198.50 50% off
Pros
You can use PLR products to generate profits, give them as bonuses for your affiliate promotion campaign, or rebrand them and create new unique products.

Lifetime memberships for PLR products can save you money if you're looking for a long-term solution to bulk goods.

The website is updated regularly with fresh, quality content.
Cons
Product descriptions may not provide much detail, so it can be difficult to know just what you're downloading.

Some product categories such as WP Themes and articles are outdated.

Match ID: 9 Score: 5.00 source: www.crunchhype.com age: 164 days
qualifiers: 5.00 fitness

Filter efficiency 98.689 (10 matches/763 results)